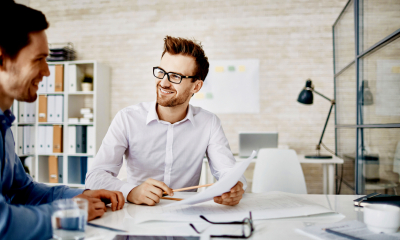 As a professional adviser or consultant, you're at significant risk if someone claims that you caused them loss or injury. For example, a client may sue for compensation if they think you gave them poor advice
The right insurance can provide important protection against claims like these. You should also make sure you have the right insurance to cover other normal business risks, such as your premises and any car you use for work.
Liability insurance for advisers and consultants
Even the best advisers and consultants make mistakes. What's more, an unhappy client might take legal action even if you haven't done anything wrong - but they think you have. Faced with the prospect of substantial legal fees and compensation, you could be in real trouble.
Professional indemnity insurance puts you in a much stronger position. It covers legal costs for defending claims: for example, that your mistake cost the client money, or that you disclosed their confidential information.
There's no legal requirement to have professional indemnity insurance, though some professional bodies make it a condition of membership, but you may well want to consider it. Some clients will only use advisers who have adequate insurance.
At the same time, you should think about getting public liability insurance, to protect you against claims that your business has harmed someone or damaged their property. For example, a visitor to your premises might trip and hurt themselves, or you might accidentally damage equipment while visiting a client.
If you have employees, you're legally required to have employers' liability insurance to cover injury or illness they might suffer because of their work.
Other advisory business insurances
Like any business, you want to make sure that you have proper insurance for your premises and any vehicles. It's important to be aware that ordinary domestic insurance won't normally cover you if you work from home or use your private car for work.
While your liability and other insurances typically cover the legal costs involved in any claim, you may also want to top these up with additional legal costs insurance. In particular, consultants and advisers can face tax investigations. For example, HM Revenue & Customs might suspect that you're not genuinely self-employed, or that your personal service company isn't complying with the IR35 rules.
Finally, you may want to consider insurance against the loss of income your business could suffer if you, or an employee, becomes unable to work. You're unlikely to be able to make up the lost income by hiring a temporary replacement.
Controlling insurance costs
The costs of insurance clearly depend on how much insurance you require. Premiums will be affected by factors such as your turnover, number of employees, how risky your business is perceived to be, the value of any property and vehicles, and so on.
Good management can reduce the risk of claims, helping you build a good track record and ultimately reducing your premiums.
Minimise the risk of disputes with clients. Make sure you understand the client's needs before you sign a contract, and that the contract clearly sets out what you will and won't do and how success will be defined. For longer contracts, agree a timeline and milestones. Keep the client informed and give them the chance to raise any concerns.
Carry out a health and safety risk assessment of your premises. Remove obvious risks like clutter and stray cables. Make sure you have good premises, vehicle and computer security. Your insurance policies are likely to include good security as a condition of cover.