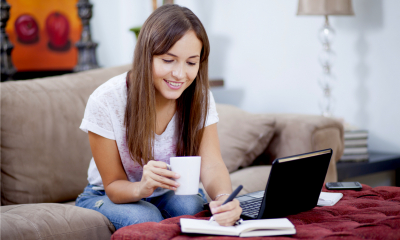 If you run your business from home, you need to make sure you're properly insured. Your existing home insurance may well not cover you. It could even be completely invalidated if you have a home business
You should also think about the other risks your business has, and whether you should take out extra insurance to cover these.
Home and contents insurance
It's often possible to include a home business with your home and contents insurance, but you need to check. You should also make sure that running the business from your home is allowed by your lease (if you rent your home) or your mortgage provider.
Whether an insurer will cover you, and how much the insurance premiums change, will depend on the type of business:
Most home insurance providers allow you to have a home office for running your business. This could even reduce your insurance premiums, as you're less likely to be burgled if you're at home during the day as well.
Non-domestic kinds of business use may not be covered or may mean higher costs. For example, you might have a workshop.
Your business may involve having regular visitors, for example if you're a therapist or photographer. This is more likely to increase your insurance premiums.
If necessary, you may need to purchase business insurance for your premises and contents. Whatever policy you have, you should check that it provides the cover you need.
For example:
What's the value of your business contents, including any stock? An ordinary home insurance policy may only cover business contents up to a set limit, or a certain percentage of the value of your home contents.
Are high-risk items like laptops and smart phones covered?
Do you need cover for equipment while away from your premises? For example, if you take your laptop to a client's office or use your own equipment to maintain customers' gardens.
Does the policy cover you against theft by visitors, or only if there is forced entry to the premises?
What are the key exclusions and conditions?
If, like many home businesses, you're dependent on your computer, you may want specialist IT insurance to protect you from risks like viruses and cyber attack.
You should also think about whether you want business interruption insurance to cover the extra costs and disruption your business you might face. For example, if a flood means that you can't work from home for several months and need to rent an office.
Other home business insurances
If you use your car or van on business, you need to check whether your existing vehicle insurance will still be valid. You're likely to need to upgrade your insurance if you use the car to visit clients, make deliveries or carry customers.
You should think about whether you want protection against the risk of being sued by someone. Insurances you may want include: