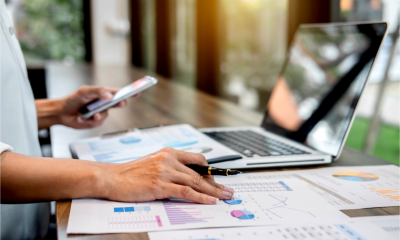 The impact of COVID-19 is being felt across the country and HMRC have been extending deadlines to ease the burden many businesses are feeling. One area they have made changes to is MTD (Making Tax Digital) for VAT.
All businesses with a taxable turnover above the VAT threshold of £85,000 must have digital links in place by their first VAT return period starting on or after 1 April 2021. Online filing via XML software will cease from 8 April 2021.
Whilst MTD for VAT will be extended to all VAT registered businesses regardless of turnover from April 2022, businesses below the threshold can voluntarily join now.
So, what is MTD for VAT?
Making Tax Digital (MTD) for VAT is the first stage of the government's initiative to completely digitalise tax.
It took effect on 1 April 2019, with full compliance starting on 7 August 2019 (the first VAT submission under MTD was required by this date for those businesses whose first VAT quarterly ended on 30 June 2019). Since then, businesses have been required to keep digital VAT business records and send returns using Making Tax Digital (MTD)-compatible software.
To make it easier, HMRC has conceded the use of spreadsheets. They are allowed under the MTD regime, although bridging software will be required to file the VAT return to HMRC. You may also be using an old bookkeeping system that has not been updated to comply with MTD for VAT. If this is the case, you will also need to use bridging software to make your VAT return submissions to HMRC.
We explain how bridging software works, along with its benefits.
How does VAT bridging software work?
Once you have registered with HMRC for MTD for VAT and received email confirmation that your account is active, you will need to 'authorise' your bridging software to link with your HMRC account. The software will help guide you through these steps.
Bridging software then transfers your VAT information to HMRC's systems via an incredibly simple digital process. You'll complete your spreadsheet, or your non-compatible bookkeeping software as usual, then upload or link the VAT 100 report to the bridging software product.
Once you have completed this step, it's best to check that the prepopulated form's values match the ones in your VAT 100 report. When you are happy it is correct, you can submit the VAT return direct to HMRC.
Need help with your VAT return?
GoSimpleVAT will help you navigate your digital VAT submissions with complete ease. From £9.99 a quarter, you'll also get a 15% Donut discount when you register.
What are the benefits of bridging software?
A key reason many are opting for bridging software is that it's generally cheaper than the other types of MTD-compliant bookkeeping tools. SMEs are finding the average cost is £564, as they need to pay one-off charges or annual subscriptions. And this is just small businesses – larger ones are experiencing an even higher price tag.
Another benefit is that bridging software allows businesses to continue using their existing spreadsheet or non-compatible software.
Bridging software's tools bear a close resemblance to the requirements of the nine VAT return fields and are a simple way of filing your VAT return under the new MTD regime. They will also show you a history of MTD for VAT submissions, along with details of the VAT payments due and made.
What are the limitations of Making Tax Digital bridging software?
Whilst incredibly beneficial, the software does have a downside. It's not able to be employed for other parts of MTD compliance, such as electronic record-keeping. You will still need to use your spreadsheet or non-compatible bookkeeping software.
Who can take the most value from bridging software?
Anyone dealing with the VAT return process will benefit from bridging software – from accountants submitting on behalf of their clients to small and large businesses filing for themselves.
SMEs, in particular, will find the tools valuable. This is because of the higher cost of other types of software, and the time required to get to grips with them.
It's also particularly beneficial to those who already have (non-compatible) accounting software in place.
Getting the best out of MTD for VAT bridging software
Now you know when and how to get ahead of MTD for VAT, along with how bridging software ties in with it, you can take advantage of these tools.
All you need to do is make sure that you choose the right MTD for VAT bridging software.
With GoSimpleVAT, you'll be able to benefit from retaining your existing bookkeeping process if you currently use spreadsheets.
It offers you:
the ability to import VAT reports from any spreadsheet or PDF
a streamlined process with easy-to-understand dashboards
Plus, our software is on HMRC's recognised list of suppliers, so you can rest assured that your VAT returns are submitted using a completely compliant tool.
Copyright 2021. Article made possible by Mike Parkes of GoSimpleTax, providers of future-proofed VAT software. Trial GoSimpleVAT free for 14 days.