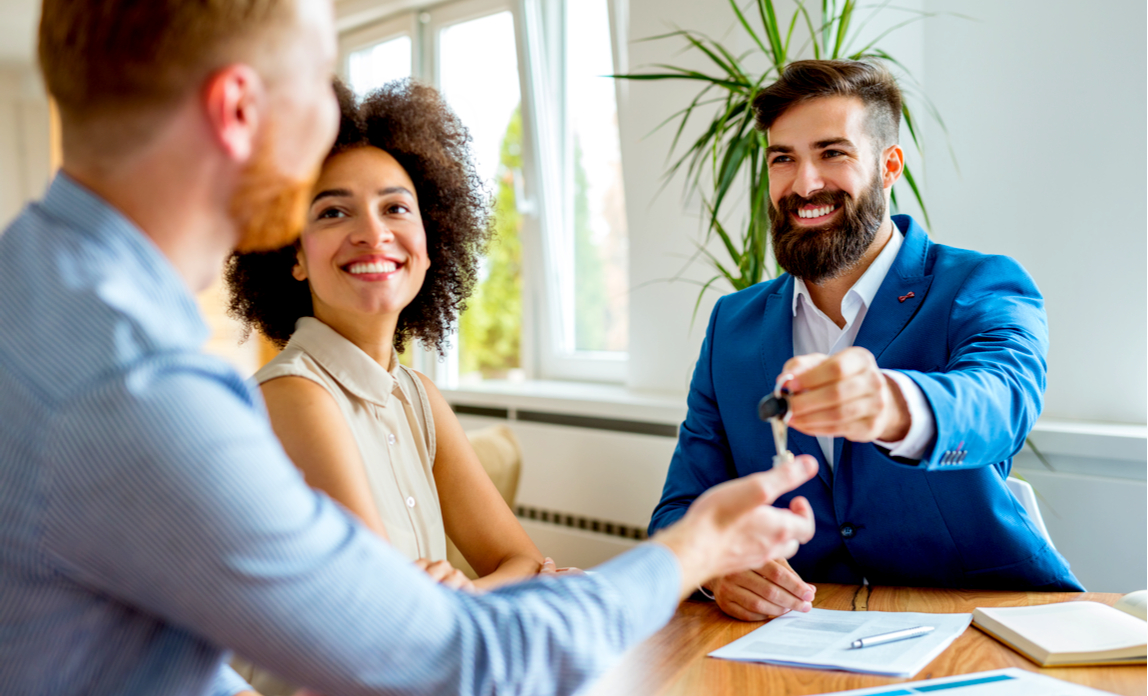 The UK's forthcoming Brexit deal is making the future of the property market a guessing game. It is hard to determine what will happen to interest rates on mortgages in 2019. Last year, the Bank of England's base rate increased from 0.5% to 0.75% - the highest it's been in almost a decade.
As competition is high, many loan providers are not only lowering their interest rates, but reducing fees, offering cashback deals and using other incentives (such as free legal work and valuations) to attract potential re-mortgagers to their business. Moneyfacts states that 1,459 cashback incentives are available on residential mortgages, two-and-a-half times as many as in 2011.
What about first-time buyers?
First-time buyers may also find the best deals now. At the tail end of last year, mortgage rates for those with only a 5% deposit fell to the lowest yet, with an average interest rate of 3.34%. The availability of such mortgages also increased last year, rising from 217 to 304 existing deals.
Lenders are also broadening their range of deals to ensure that they cater to everyone. Companies are reducing exit fees that have historically put many off a longer-term mortgage, in the hopes of securing customers for a lengthier period.
As many mortgage hunters are opting for a longer mortgage, the differences in the interest rates of a two-year and a five-year fixed rate mortgage have narrowed a great deal. The average rate for a two-year fixed rate mortgage comes in at around 2.51%. When compared with the average 2.92% interest of a five-year fixed rate mortgage, the slim difference is noticeable.
With competition as high as it is, the lowering of interest rates and the likelihood of the cost of borrowing increasing in the coming months, now may be the optimal time to purchase a house or to re-mortgage.
What might spark a rise in rates?
We know that Brexit is likely to affect the property market - but how severe is the impact likely to be, and what other outside influences might cause an increase in interest rates?
Following the 2016 referendum, the value of the British pound significantly decreased. Inflation peaked at 3.1%, which has now fallen to 2.3%. However, inflation still sits above the official national target of 2.0%. If we see another rise, the effect on interest rates could be substantial. Again, it's a guessing game until the completion of Brexit.
With this being said, the UK's economy is growing. The problem here is that the growth is unsteady. For example, the Office of National Statistics reported that in the first financial quarter of 2018, economic growth was a mere 0.1%, below the estimated 0.3%. However, in the second and third quarters the growth rate was up 0.4% and 0.6%.
With this uneven growth, it is hard to determine the future of the economy and how this will impact on national mortgage interest rates.
Rates could also be affected by the worrying upsurge in UK unemployment. Last year, the number of British citizens out of work rose 20,000 to 1.38 million. This was the second rise in a year, producing the highest unemployment levels in 43 years, at 4%. If this continues, higher inflation may occur, causing interest rates to rise alongside.
The future of the property market remains unclear. Although 2018 seemed to cast light on a somewhat darkened industry, with a slight decrease in property prices and rise in mortgage availabilities allowing first-time buyers more opportunities, 2019's highly probable Brexit deal does not set the year in good stead.
It is assumed by many that this will bring a further rise in the Bank of England's base rate, which has already jumped from 0.5% to 0.75%. For house hunters, this may be worrying.
However, loan providers are ahead of the game, reducing their interest rates at the beginning of 2019 to gain customers and business. If you're thinking of getting on the property ladder or re-mortgaging your house - the time is now. After all, no one really knows what the future holds for mortgage interest rates.
Copyright © 2019 Featured post made possible by Paul Flavin, managing director of Mortgages Online