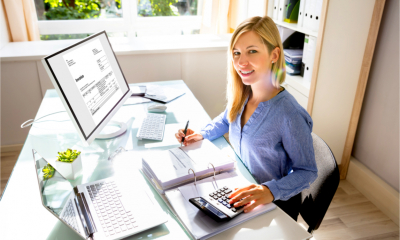 You may have heard of Making Tax Digital (MTD). If your business is VAT registered, you or your accountant should have already prepared your business for it.
What is Making Tax Digital?
MTD is a huge government initiative that will digitise the UK tax system when complete. It's being introduced over a few years because the government wants to make it easier for people and businesses to manage their tax affairs. It also hopes that MTD will significantly reduce basic tax errors that cost the UK billions in lost tax revenue each year.
MTD will mean that people and businesses with taxable will need to record their financial data in MTD-compatible software regularly and report figures each quarter to HMRC. MTD will impact Income Tax and Corporation Tax, but it has already affected VAT. 
The first phase of MTD for VAT was introduced on 1 April 2019, and it applied only to VAT-registered businesses with a taxable turnover above the VAT threshold (£85,000).
From 1 April 2022, all VAT-registered businesses, regardless of turnover, must comply with MTD for VAT rules. That means maintaining digital VAT records and sending quarterly VAT returns electronically direct to HMRC.
Download the FREE ANNA Business Tools app and get access to free time- and cost-saving tools that make MTD for VAT and invoicing simpler.
Issue invoices and track payments with the FREE invoice generator and templates. Calculate and submit MTD-compliant VAT returns with MTD bridging software and FREE spreadsheet templates.
What software will you need for MTD for VAT?
Before you sign up to MTD for VAT you'll need MTD-compatible software, which can be either of these two options:
Third-party VAT record-keeping software, which you can use to update and store your records digitally. It works directly with HMRC's systems allowing you to file your quarterly VAT returns.
Or
Bridging software, which works with non-compatible software, spreadsheets, accounting systems and other digital bookkeeping products and lets you send the required VAT information digitally to HMRC in the correct format and send you quarterly VAT returns.
How to find MTD for VAT software
You can visit GOV.UK to search for MTD compatible software, both third-party VAT record-keeping software and bridging software. HMRC does not endorse or recommend any product or software provider.
All software listed on site has been through HMRC's recognition process to verify its suitability. You can search by software name or software type, suitability (ie for individuals or businesses), software features, price (including free software), language (Welsh or English) and accessibility features.
Most of the software listed on GOV.UK isn't free, you must pay for it, although a limited number of free software is available. Obviously, you should take enough time to find MTD for VAT software that is best suited to your needs and budget.
After you have found the right software, you can sign up for Making Tax Digital for VAT. On the government website GOV.UK you can register to watch a recorded HMRC webinar about Making Tax Digital for VAT.