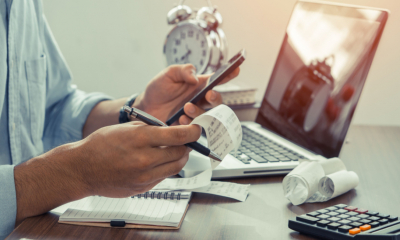 At some point, every small business owner will need to understand their responsibilities in relation to managing their own tax affairs. For some entrepreneurs this will be a priority from the moment they begin trading, with many electing to invest in accounting software and/or seeking the professional advice of a trained accountant. Others may find it harder to manage their company finances, which is perhaps unsurprising considering how complex taxation can be to the layman.
Whatever the case, grappling with taxation is not something a business owner can avoid in the long term as failing to file a VAT return on time (or filing it incorrectly) can result in hefty financial penalties. In the 2020/21 tax year alone there were over 500,000 businesses on the receiving end of some kind of VAT-related fine.
One thing which makes handling their company tax affairs unappealing is that the rules are constantly evolving. For example, the advent of Making Tax Digital has changed the way VAT returns are submitted and introduces different penalties for those who do not adhere to the new rules. To avoid these financial sanctions, business owners should familiarise themselves with the new rules to avoid being hit by charges.
This short guide seeks to put business owners in better position to sail through their VAT return without incurring penalties.
Just what is Making Tax Digital?
Before diving into penalties, we should introduce MTD itself. MTD, or Making Tax Digital, was introduced to make filing your VAT return simpler and reduce the number of mistakes being made. It essentially stipulates that VAT returns can no longer be completed by post and must be submitted online using an accredited accounting software package . MTD currently applies to all VAT-registered businesses and doesn't impact income tax, although it will do in the future.
Current VAT penalties
While digital VAT returns will help businesses to reduce their risk of incurring penalties, it's important to be aware of the reasons you might be fined and by how much. The current system works as follows:
Lateness: Regardless of whether you file your VAT return or pay the VAT you owe after the deadline, you may be at risk of receiving a penalty. The amount is usually proportionate to both the length of your delay and the number of times you've missed a payment. While some first-time late submissions are exempt from penalties, many businesses will be subject to surcharges between 2%-15% for repeatedly missing deadlines.
Mistakes: If your VAT return contains either deliberate or careless mistakes resulting in tax being understated or overclaimed, you may be liable to pay a penalty of up to 100% of any unpaid tax. Similarly, if you fail to report an inaccurate VAT assessment sent to you by HMRC you may also have to pay 30% of the tax you owe. You must notify HMRC within 30 days of receiving the assessment to avoid charges.
MTD non-compliance: As digital tax returns are now compulsory for all VAT-registered businesses, submitting a paper return can result in penalties of up to £400. However, if HMRC has issued you an exemption from digital returns, you may be able to submit a paper return through the post.
Changes to the penalty system
As of January 2023, a new VAT penalty system will be implemented, impacting all businesses submitting a return for the 2021/22 tax year. These changes do not necessarily link to MTD directly, but they are coinciding with the switch to digital returns, making it logical for business owners to address both issues at the same time.
It's important to note that the new penalty system doesn't completely cancel out the current rules. The new system will not apply to calculation errors or other mistakes – these will still be treated in the same way. Instead, the new system focuses on late VAT submissions.
How does the new system work?
Much like the speeding offences system, VAT penalties for late submissions will be points-based. Once a business reaches certain points thresholds, it will be issued with a £200 fine automatically. One point will be applied for each missed deadline and businesses that are affected will be informed of how many points they have accrued. After two years, points will expire unless you have reached the threshold for a penalty.
The penalty thresholds depend on how often a business submits its VAT return. The thresholds are as follows:
Annual returns = two points
Quarterly returns = four points
Monthly returns = five points
Are there any other changes?
In addition to the points system, late payment penalty rules are changing. They will still operate in a similar way to the old system, but the thresholds will be different. Penalties are issued based on how late payments are with the severity increasing the with the length of the delay:
Submissions up to 15 days late will incur no penalty
16-29 days will be charged at 2% of the outstanding tax
30 days will be charged 2% on the outstanding tax for the entire period (including days 0-15 that were previously exempt)
31+ days incur a 4% penalty that's calculated daily
These penalties can be reduced or avoided by entering a Time to Pay arrangement with HMRC. This involves arranging a more manageable payment plan across a 12-month period. It's also worth noting that HMRC is willing to be more lenient in the first year of this new system. If businesses can prove that they are doing everything they can to comply with new rules, they may be able to forgo the 2% penalty for up to 30 days as long as a payment agreement is reached with HMRC within this window.
Managing your MTD VAT return
The new changes to VAT returns as a result of MTD and the new penalty system will force many business owners to overhaul their accounting processes. While this may be an inconvenience in the short term, complying with new rules early will make managing your finances and avoiding penalties much easier as time goes on.
Copyright 2022. Article was made possible by site supporter Aislinn Carter.