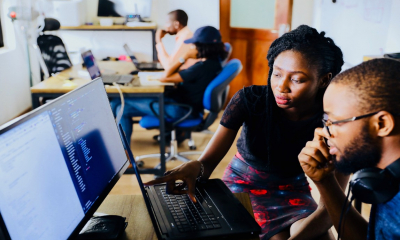 Are you looking to work in the finance sector as an accounting professional, perhaps with a job title such as ' assistant auditor', ' payroll manager' or ' senior bookkeeper'? In that case, you might have a lot of good reason to give an AAT accountancy apprenticeship some considerable thought.
A lot of people who have ambitions to enter this industry don't initially think of an apprenticeship as a route there. They might be someone slightly older, with previous workplace experience, and they might have long presumed that apprenticeships are purely for school leavers, or those interested in entering traditional practical trades such as joinery or plumbing.
But as it happens, apprenticeships really can be for everyone! You might be surprised to learn that there are plenty of women who complete apprenticeships, for example, as well as that – according to statistics cited in a House of Commons Library Research Briefing – 47% of apprenticeships started in 2019/20 were by people aged at least 25.
The old stereotypes about apprenticeships, then, are continuing to shift – and in the process, more and more people are wondering whether an AAT accountancy apprenticeship could be ideal for them.
What actually is an AAT accountancy apprenticeship?
AAT, in case you're wondering, stands for the Association of Accounting Technicians, which is the world's premier professional body for accounting technicians. The organisation has around 130,000 members living and working across more than 100 countries.
Particularly importantly from the point of view of those aspiring to work in the finance sector themselves, AAT awards about 80% of all vocational qualifications. Being the holder of an AAT Accounting Qualification, then, is a great way to make yourself more employable as an accounting professional.
Such internationally renowned organisations as P&G, Morgan Stanley, Sainsbury's and the Ministry of Defence have all been known to take on AAT qualified members for sought-after roles. So, if you want to be sure of making the strongest possible first step into an accounting career, you would struggle to do better than taking on an AAT accountancy apprenticeship.
The key benefits of undertaking an AAT accountancy apprenticeship
Below are some of the major advantages of committing to an apprenticeship route that has AAT approval:
There are great options to build the career you want. You only need to look at the TCHC website to get a sense of the possibilities when it comes to AAT apprenticeships. Pathways that we make available include the Assistant Accountant Level 3 apprenticeship, which would help you gain the knowledge and skills needed to get started with a financial career, and the Professional Accountant/Taxation Technician Level 4 route. An apprentice on the latter can focus on either tax or accounting, and it can serve as a great stepping stone to a career as an assistant financial accountant, commercial analyst or senior financial officer.
It allows you to earn as you learn. In common with other apprenticeships, an AAT accounting apprenticeship enables you to start earning immediately, while developing skills 'on the job' . Over the course of the apprenticeship – which, for both the aforementioned routes, is expected to last from 15 to 18 months – you will gain real-world experience and skills that will help make you highly employable. You will qualify faster than if you had gone to university, while also getting employee benefits, including a holiday allowance.
You'll avoid the debts associated with university study. With the costs of attending university continuing to climb, and would-be students ever-more anxious these days to ensure they take a path that makes them as employable as possible, you might be likelier than ever to seriously consider an apprenticeship as an alternative. Complete an AAT accounting apprenticeship, and you will be able to start your career free from debt, while immediately making yourself a well-rounded employee and candidate for future roles.
It is an immediate route to practical, real-world qualifications. AAT qualifications are trusted around the globe, by potential employers ranging from public-sector institutions to blue-chip corporate giants. When it comes to supercharging your employability, then, you could scarcely do better than taking on an AAT accountancy apprenticeship. Successfully completing the Level 3 Assistant Accountant apprenticeship mentioned above, for instance, will result in you being awarded the Advanced Diploma in Accounting (Level 3) and Foundation Certificate in Bookkeeping (Level 2). Completing the Professional Accountant/Taxation Technician (Level 4) route successfully, meanwhile, leads to the award of the AAT Professional Diploma in Accounting.
Do all these things sound like the results you would like to have from your chosen training course, particularly from the perspective of your longer-term career ambitions? If so, it might be time to get serious about embarking on a finance apprenticeship; simply contact the TCHC team for further information and advice.

Copyright 2021. Article made possible by MR SEO.