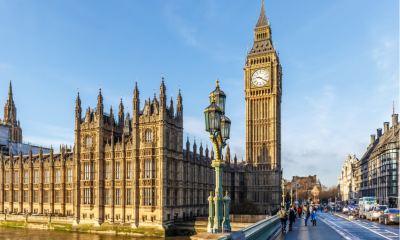 Before the chancellor had even opened his iconic red briefcase, there was some controversy ahead of the address. Speaker of the House of Commons, Sir Lindsay Hoyle, suggested this week that ministers should resign for "riding roughshod" over MPs by giving a series of briefings to the press in the run-up to the Budget.
Although it has become increasingly common for key announcements to come out before the official statement, Sir Lindsay clearly feels things have gone too far. "At one time, ministers did the right thing if they briefed before a Budget – they walked," he said, following several revelations over the weekend.
Before the chancellor Rishi Sunak even started talking earlier today, we already knew that the National Living Wage is being increased to £9.50 an hour from April; the public sector pay freeze is ending; almost £6 billion in funding has been pledged to tackle the NHS backlog; £6.9 billion has been allocated to bring about a "local transport revolution" and £850 million in "post-pandemic funding" has been promised to "breathe life back into our world-renowned cultural and heritage hotspots".
So, knowing all of this, what was left for the chancellor to announce? As it happens, quite a lot. We cover the main points below:
Business taxes
Business rates: the rates revaluation period will be reduced from five to every three years from 2023.
Business rates: the multiplier will be frozen for a second year from 1 April 2022.
Business rates: a temporary 50% relief for eligible retail, hospitality, and leisure businesses for the 2022/23 tax year of up to £110,000 per business.
Business rates: a new 100% improvement relief for businesses which make premises improvements that increase the rateable value of the building. It will provide 12 months relief from any rate increase from April 2023.
Business rates: an extension to the transitional relief for one year which restricts bill increases for eligible small businesses.
Company vehicles: company car tax rates already announced in Budget 2020 will remain frozen until 2024/25.
Annual Investment Allowance: the temporary uplift to £1 million will be extended until 31 March 2023.
R&D tax relief: will be extended to include the costs associated with data and cloud computing from April 2023.
Tax relief for culture and the arts: headline rates of relief for theatres, orchestras, museums and galleries will increase until 31 March 2024.
Museums and Galleries Exhibition Tax Relief (MGETR): will also be extended for two years until 31 March 2024.
Tax administration
Income tax basis periods: from 6 April 2023, businesses' profit or loss for a tax year will be that arising in the tax year itself, regardless of their accounting dates.
Making Tax Digital for ITSA: has been delayed by a year. Sole traders and landlords with income over £10,000 will join MTD for Income Tax Self Assessment from 6 April 2024 and partnerships will join from 6 April 2025.
Tax penalty reform: a new tax penalty regime will come into force from 6 April 2025 for the late filing and payment of income tax self assessment.
Personal taxes
National Insurance: for one year from 6 April 2022 employer's and employee's National Insurance contributions will increase by 1.25%.
Dividend rates: as announced previously, the ordinary and upper rates of income tax on dividends will increase by 1.5% (to 33.75% and 39.35% respectively).
Savings: the annual subscription limits for adult and child ISAs, and child trust funds, will remain unchanged.
Capital Gains tax: the window for reporting and paying CGT on residential property sales will increase from 30 to 60 days from today.
Duty rates
Vehicle excise duty: will increase in line with RPI from 1 April 2022.
VED and levy rates for Heavy Goods Vehicles: HGV VED will be frozen in 2022/23 and the HGV levy will be suspended for a further 12 months.
Van benefit charge and fuel benefit charge: both will increase in line with CPI from April 2022.
Fuel duty: will remain frozen in 2022/23.
Air passenger duty: from April 2023, the APD rate for domestic flights will be set at £6.50, the rates for short and long-haul flights will increase in line with RPI and there will be a new extra-long haul rate for flights over 5,500 miles from London.
Aggregates levy: the duty will remain frozen in 2022/23.
Tonnage tax: from April 2022 ships in the UK tonnage tax regime will no longer have to fly the EU flag. Measures will be introduced to make it easier for ships to participate in the tonnage tax regime. The limit on secondary income (passenger/ancillary income) will also be increased from 10 to 15%.
Alcohol duty: alcohol duty on beer, wine, cider, and spirits will be frozen for another year.
Alcohol duty reform: the system will be simplified so that drinks are taxed in proportion to their alcohol content. Alongside this, a new relief will be introduced, with duty rates on draft beer and cider being cut by 5%.
Tobacco duty: from 6pm on 27 October duty rates on all tobacco products will increase by RPI + 2%, hand rolling tobacco rates will increase by RPI + 6% and the minimum excise tax will increase by RPI + 3%.
Other announcements
National Living Wage: will increase to £9.50 per hour from April 2022.
National Minimum Wage: will increase from April 2022 to £9.18 for workers aged 21 to 23; £6.83 an hour for 18 to 21-year-olds; £4.81 per hour for 16 and 17-year-olds and £4.81 for apprentices under 19 or older than this but in the first year of their apprenticeship.
Public-sector pay freeze: is ended.
Overseas workers: new Scale-up, High Potential Individual and Global Business Mobility visas will be launched to enable UK businesses to attract highly skilled people and investment from overseas.
See our other Budget content here:
Copyright 2021. Article written by Fiona Prior, Donut Blog Team.