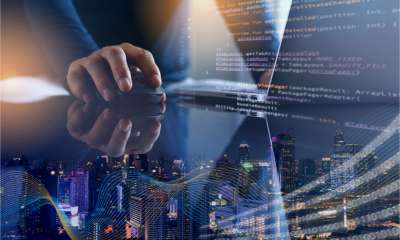 The world of work is changing. With its vast potential for new technologies and innovation, the digital age has fuelled what many now call the new industrial revolution. The way we live, work, and interact has changed dramatically in recent years due to innovation in various tech areas. One of the most important shifts is how we do business.
Digital transformation can benefit SMBs in many ways including improved marketing, customer service, and successful online transactions.
Businesses today are faced with a lot of challenges. They have to compete in a tough market, stay relevant to their customers, and keep up with the latest technology trends. To stay competitive, SMBs often need to find new ways to grow.
One way that's been proven to work is digital transformation. The phrase "digital transformation" has a wide range of definitions but basically it means the use of any kind of technology or software to help improve your business. Many ecommerce business owners are using automation and technology to their advantage.
Let's take a look at the benefits of digital transformation for SMB owners.
1. Saving valuable time
In recent years, businesses across the board have ramped up their productivity and with it, their influx of data. Some online sellers receive thousands of online payments from multiple different online sales channels. This has significantly increased the average CPA's workload. Manually managing such huge volumes of sales data, with spreadsheets for example, has become extremely difficult and time-consuming.
Technology has become the perfect assistant to manage the workload by performing tasks such as transactional accounting work and helping you manage multiple clients at once. This saves hours and hours of time that would otherwise be spent on manual data entry while, simultaneously, reducing the risk of human errors. Technology also performs tasks such as expense recording and tax preparation. Automating processes like these make your day-to-day accounting processes more efficient and help reduce the headache.
2. Added value to your service
Every job has two types of tasks: repetitive and routine ones and more interactive and "human" ones. The good news about technology automating certain jobs is that it's eliminating the boring and mundane parts of your work. Data entry will still be a part of business owners' daily activities but will involve much less manual work. Services like Synder, allow you to put the data entry processes on auto-pilot.
With such technologies, you will have more time to spend on your clients and get more customers. Leave the manual work to accounting software, as you started this business, not because you wanted to spend sleepless nights checking all the sales during a particular period, am I right?
3. New growth opportunities
As we all know by now, the COVID-19 pandemic accelerated the speed of digital transformation. Thousands of people created completely new ecommerce businesses, thus a whole new market of online businesses emerged. Digital transformation introduces them to this fresh market of new clients and a bunch of new possibilities.
With the development of technologies, you can now start your own business not only on the vast expanses of different sales channels (Amazon, eBay, Etsy, etc.) but even on your Instagram account or whichever social platform you are using the most.
4. Improving advertising
To be an eye-catching store, a business owner should spend time planning and creating the best tactics for the development of the store as the first customers will probably be relatives and close friends. They can tag the store in a picture and say that this guy uses the best material. The problem is this doesn't cut it as global advertising (unless they're a global superstar).
In this case, you may be interested in the technologies that help you get high-ROAS. Modern advertisers are relying on sophisticated advertising tactics to target their audiences and make smarter decisions. They will definitely help you to find the audience that will be interested in your product.
5. Stay competitive
Perhaps the most important way digital transformation benefits business owners is that it allows them to stay competitive. Those who don't have a digital transformation strategy and don't implement technology will be forced to compete with those who do, as well as competing with technology itself.
Just imagine spending time manually transferring all the sales into your book when another ecommerce business owner just clicks a few buttons and synchronisation is done automatically while you are checking your last transaction. Fortunately, there are plenty of cost-effective software solutions available.
Conclusion
Your store should stand out from the crowd and catch potential customers' eye with its name or design. It should also be easy to use. Digital transformation will help you achieve this goal.
Today, countless businesses are run with the help of accounting software like Synder which provides you with detailed reports for your P&L, multi-currency features, and technologies that help with SEO, marketing and advertising.
Developing your business has never been easier! You'll gain complete control over your workflow: customers, reports, sales rates and more. You'll be able to build the career that you truly want from the very beginning with less stress and best results. So, are you ready to start your way to the top?
Copyright 2021. Featured post made possible by Ilya Kisel, Synder.