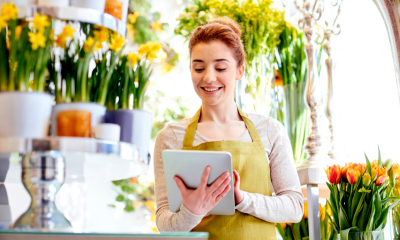 With the COVID-19 pandemic sweeping across Britain, businesses have had to close shop. As cities start to re-open, it's important businesses make sure they get the basics right. This includes the safety of staff and customers alike. One of the crucial contact points in a store is payment. To limit the contact between staff and customers, you can get paid remotely. This can be both in-store or online, depending on the needs of your business. In this article we will explain what this could mean for your business.
How can I get paid remotely?
If you want to receive payments remotely, you will first need to set-up an account with a provider like SumUp. Once you have completed the registration, you are able to select multiple payment methods. One of the most convenient ways for businesses to start immediately is using the payment link. Your cashier can type in the payment amount on a smartphone and produce a payment link or QR code. By showing the QR code to the customer, the customer can scan and pay the amount owing. You will immediately receive a notification that the amount has been received.
Other ways to get paid remotely include gift cards, e-invoicing or the online store starter. Online gift cards make it possible for customers to buy gift cards for themselves or friends to spend online or in store. For example, in the SumUp app, an optimised gift card page is created for your store. All you have to do is share the link from the SumUp app.
E-invoicing is another option that can be carried out quickly and easily. You can create an unlimited number of invoices for free on your mobile, desktop or laptop. After you have sent the invoice to your customer, you can follow the status of the payment on any of your devices.
Convenience for customers
Customers can pay using their preferred payment method in a secure environment. When they use the payment link or scan the QR code, they can select the payment method they want. They are then forwarded to their preferred payment method (eg their bank) to conduct the payment. This is also convenient for businesses as they do not need a dedicated payment terminal. The result? Lower transaction fees. Another reason this makes it appealing from a business perspective.
More advanced payment methods?
If you want to offer customers a more traditional payment method, you can consider offering mobile card reader. These readers are connected to a smartphone operated by the cashier. The cashier enters the amount payable into the smartphone and activates it on the card reader. The customer then simply scans their contactless payment card, making it a safe payment option. The payment is validated, and the cashier receives a notification on the smartphone.
Payment methods to meet your business needs
Of course, the payment methods you choose to offer will depend on your business needs. For example, many restaurants needed to switch to delivery to continue their operations during the COVID-19 lockdowns. However, you would not want to cook food until payment has been settled.
Delivery portals offer different payment options but can come with hefty fees that eat into your profits. This is where the ability to get paid with SumUp comes in. You send the link to your customer and receive the payment. Once payment has been received, you can start cooking and dispatch the food once it is ready.
The pandemic has shown that we need to become increasingly agile, especially in respect to payments. If you want to offer your clients a safe method of payment, contactless and digital payments are the way forward. Get started today and enjoy low fees and ease of use.
Copyright 2020. Featured post made possible by TheTechHeadlines