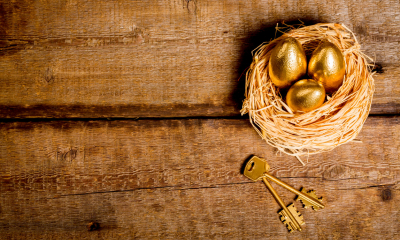 Did you know that investing in gold can diversify your portfolio? It can also provide insurance against stock market turbulence. We explore why you should consider investing in gold and how to do it.
Is investing in gold a good idea?
As global stock markets sink deeper into unchartered territory, the question we need to ask is 'Is gold a good investment?' You need to start by understanding that investment in gold is not the same as buying bonds or stocks.
Historically, gold has always been a safe investment haven through times of war, political upset and previous stock market devaluations. For this reason alone it's worth adding to your portfolio.
Here's why buying and selling gold is profitable:
no single investment comes close to gold's long-term track record
it has been accepted as 'global money' throughout the world for thousands of years
it is durable, something that makes it superior to all other mediums of exchange the world over
gold trading is not backed by central banks or the government
You can buy gold by purchasing either gold coins or gold bullion. Bullion bars have a stamp containing the amount of gold present and the purity level. Note that the value of either is determined by the content of the metal and not its condition or the rarity.
As an investor, you can invest through an exchange-traded fund (gold ETF), buying the physical product or stocks in gold miners. One of the reasons gold remains important to the modern economy is the fact that it has held its value through many generations.
It is considered a safe haven, particularly in times of economic and political uncertainty. Note that investing in precious metals such as gold, silver and platinum is excellent in protecting against economic collapse and inflation. This is because metals with limited supply tend to be less vulnerable to devaluation. Investors are often torn between investment in gold or silver. Savvier investors will own both. Gold offers absolute insurance against uncertain times, while silver tends to be a little more speculative.
Is gold a good investment in 2020?
One of the best performing investments in 2019 was gold. The question is, is it worth investing in gold in 2020, and is the price of gold going up? Following the COVID-19 pandemic, financial uncertainty and low-interest rates have been a growing concern. This has led to a dramatic increase in the value of gold, rising from £33 per gram to more than £41 per gram.
As coronavirus rattled markets in March, the gold utility was quickly reinforced as a hedge to the S&P 500.
Why buy gold now? Well, with the current financial uncertainty expected to continue, gold prices are likely to hit new highs by the close of 2020. You should note however, that choosing to buy gold is not without its risks.
Should I invest in gold?
Well, just like any other financial asset, investing in gold comes with risks, which in many cases, involves losing capital. You need to understand how to buy gold shares that suit your circumstances. The good news is, because the commodity does not rely on the stock market, it can be a highly profitable and safe investment option. Assets that are not reliant on the stock market tend to be more stable. However, to make money buy shares in gold, you will need to wait for the prices to appreciate.
What is the best way to invest in gold?
The safest way to buy gold is by owning the physical form of the commodity, which is a universal finite currency. This form of investment is known as allocated gold. However, there is also unallocated gold, which is more common and considered the best way to invest in the commodity. So, should you buy allocated or unallocated gold?
Unallocated gold as an investment means that you possess an investment that is backed by the physical reserve of a bank. It also means that you do not own the gold funds physically. Given that this form of gold belongs to the bank, you are entitled to lower premiums. You can also trade in exchange-traded funds (ETFs). These can be traded on the stock market under a group of stocks connected to gold jewellery, mining, and other sectors within the gold industry.
There are other ways to invest in gold:
Bullions
Investing in gold coins and bars allows an investor to own legal tender coins at a lower premium than the quoted metal price on the gold market. The value of these gold bars and coins is dictated by the gold buying price. These coins are available as platinum, gold, or silver coins, which are minted in the US, UK, and China among other countries.
If you choose to buy gold bullion, you can also include other speculative gold investments in your portfolio, such as investment funds and mining shares. Following the 2000 EU Gold Directive, investing in bullion in the UK and the EU is tax and stamp-duty free. Buying gold coins for investment and bars can be highly rewarding, as demonstrated by Rob Halliday Stein.
Allocated accounts
With an allocated gold account, you can buy gold from a bullion gold broker and have it transferred to a depository or a bank account. Given that these accounts involve physical ownership, the credit rating, the security, net worth, and the credit rating of the account provider should be factored in. Some of the providers to consider are gold money login and Bullion Vault login. These allow investors to buy and sell gold instantly. Given that all bars are audited, these are considered safe ways for bullion gold investing.
ETFs
Exchange-traded gold funds are designed to track the price of gold. Physical ownership of gold also involves insurance, storage, and other fees that tend to be costly. It is one of the reasons ETFs have become popular, particularly because the gold will not need to be stored. Experienced investors wishing to avoid large losses of capital are more likely to consider these futures. In 2019, Barclays UK bank launched the first global zero-fee Barclays gold. The Barclays iPath Gold exchange-traded note (ETN), uses the tickers GBUG as an unsecured debt obligation.
You could buy one that is backed by bullion, a fund that is tied wholly to the gold investment price. So, is it worth buying gold in ETFs, coinage, or bullion? Whichever you choose, it should be based on your personal preference and tax strategy. Note: the capital gains of each of these are taxed as collectibles if they are held for more than a year. ETFs afford investors the ultimate convenience and liquidity, while bullion gives direct ownership of the commodity. You should note that HMRC rules do not allow gold bullion to be used as a form of remuneration-associated tax payment.
Why invest in gold?
You might choose to invest in gold a safe haven, to diversify your portfolio or a as a hedging asset. Each investor will have unique reasons for investing in precious metals. Remember, the key to successful investment largely depends on the asset you choose. While gold can prove to be an excellent investment, success is highly dependent on your personal circumstance and the suitability of your portfolio.
Copyright 2020. Guest article edited by the Donut Blog Team