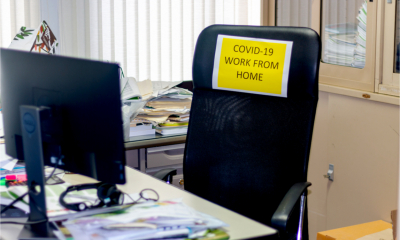 In his coronavirus statement on 22 September, prime minister Boris Johnson, advised office workers who could work from home to do so. This was in direct response to an increase in the number of confirmed coronavirus cases in the UK. While he promised that "businesses can stay open in a COVID-compliant way" he also said that that office workers could be working from home for the next six months.
While this action has been taken in a bid to slow the second wave of the Coronavirus, many employees have been left asking whether they can claim for the inevitable bills they will incur as a result of working from home for the foreseeable future. We have asked GoSimpleTax what this may mean for the finances of those working from home over the coming months.
Increased household bills for homeworkers
You may find that your household bills increase as a result of working from home when you would normally be in the office. Your phone and internet costs could go up if you have in invest in a faster broadband connection or you start to use your personal phone for busines calls. You may even need to invest in a comfortable office chair and desk or equipment if you will be working from home for the foreseeable future. All these costs can soon add up.
HMRC recognise that working from home is not without cost. Consequently, both employed and self-employed workers may be able to claim a tax rebate for these costs. However, how and what you can claim will depend on your employment status.
Need help with your self assessment tax return?
GoSimpleTax makes your self assessment tax return quick and easy, helping you figure out which expenses and allowances you can claim.
Get SimpleTax for £39.10 with our 15% Donut discount.
Expenses for employees working from home
You will only be able to claim for things that you use solely for work purposes if you're asked to work from home by your employer. Anything that is used for both private and business use cannot be claimed such as broadband and rent.
If you are employed, you can ask your employer to claim through PAYE. This will mean your rebate is paid via your tax code over the following tax year – you will have to calculate the exact amount you spend and provide evidence.
An alternative is for your employer to pay you a flat rate of £6 per week. In this case, HMRC says you do not need to provide proof of these expenses. If your work requires you to work from home part-time, you are still eligible to claim. You can ask your employer if they will pay this tax-free as part of your pay if they are in the position to do so.
If you need to claim this flat rate yourself, you can do so through a self-assessment tax return, adding it as an expense.
Expenses for the self employed
If you work from home, you're entitled to claim a proportion of your gas, electric, water, broadband and telephone bills as allowable expenses. There's no exact science to this, but generally you'd divide the bill by the number of rooms in your house and then divide that figure based on the amount of time you work from home. The GOV.UK website has a good example. If that sounds too complicated, you can opt to claim simplified expenses.
The self employed can only claim for home expenses via their self assessment tax return.
COVID support for the self employed
Whilst lockdown has had an effect on many people, the self employed, freelancers and sole traders have experienced a particularly tough time. Many have lost some or all their work due to coronavirus. The government has announced a range of coronavirus measures and support to help individuals and businesses that have been affected.
HMRC have launched a dedicated tax help line to support those businesses and self-employed people who may have concerns paying the tax they owe as a result of coronavirus. The new helpline can be contacted on 0800 024 1222 (Monday to Friday, 8am to 4pm). They will discuss your individual circumstances with you and may be able to agree a payment plan, suspend debt collection proceedings, suspend or cancel penalties and interest in cases where administrative difficulties mean you cannot contact or pay HMRC immediately.
Copyright 2020. Copyright © 2020 Amanda Swales, GoSimpleTax - tax return software that can help you manage your self-assessment.