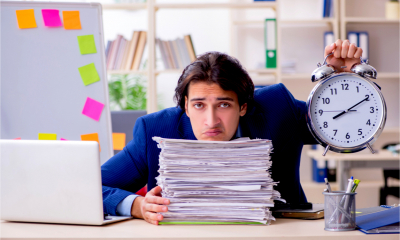 31 January marks the deadline for your Self Assessment tax return. If you have yet to submit, it's now more important than ever to prepare your documentation and receipts - so you can get the stress out of the way, and get back to earning.
To help you clear the path for a productive start to the new year, we've asked Mike Parkes from GoSimpleTax to explain the benefits of filing today.
Need help with your self assessment tax return?
GoSimpleTax makes your self assessment tax return quick and easy, helping you figure out which expenses and allowances you can claim.
Get SimpleTax for £39.10 with our 15% Donut discount.
Focus on the new year
January is generally a slow month for everyone. It's the reason why most restaurants and retailers offer incredible discounts, after all.
So whether you're a plumber, freelancer or self-employed in some other capacity, you'll know that prompting someone to make a purchase decision during this month requires a lot of chasing. All that is made much harder if you're splitting your time between preparing your Self Assessment tax return and running your business.
This is why we encourage our users to file early. That way, come January, they can dedicate their full attention to their business operations.
Budget more effectively
Let's not forget that submitting a tax return usually results in you having a tax bill to pay. The deadline for tax payment is also 31 January - so by leaving your tax return submission until the last minute, you won't know how much tax you have to pay until very close to the deadline.
Have you made provision to pay your tax bill? Have you saved enough? Leaving the submission until the last minute can put you under financial strain if the answer to those questions is 'no'.
Remember, filing your tax return early does not mean you have to pay the tax early. But the sooner you submit your return to HMRC, the sooner you'll know what your bill is.
Get the support you need
If you thought that accountants had it tough in January, you should see HMRC's call centres. Tirelessly working to help taxpayers submit tax returns accurately and on time, their customer service team try their utmost to answer your queries and keep you compliant ahead of the new tax year. But, sometimes, they're inundated.
As a warning to anyone considering leaving their submission until the week before the deadline, in January 2019, HMRC failed to meet their target of keeping callers waiting no more than ten minutes. In fact, almost 20% of callers waited over ten minutes before speaking to an advisor.
In the event that you need support from their team, we would always urge taxpayers to submit their Self Assessment tax return earlier rather than later.
Sponsored post. Copyright © 2020 GoSimpleTax offers tax return software that can help you manage your self-assessment.