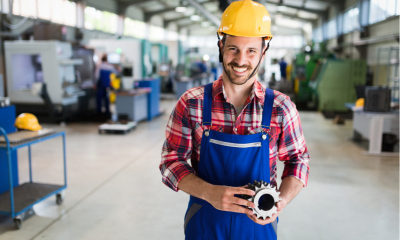 A new survey by the CBI has found that manufacturing business owners are more optimistic about their prospects for the first time in years.
The CBI survey of 279 UK SME manufacturers has found that optimism rose at the strongest pace since April 2014 in the quarter to January. The findings show that 45% of SME manufacturers said they were more optimistic regarding their business situation, while 14% said they were less optimistic, giving a rounded balance of +32% (up from -32% in October 2019).
This is the strongest balance since April 2014 (+36%) and the largest improvement in a single quarter in the survey's history (since October 1988). Optimism about export prospects for the year ahead also rose for the first time since July 2018.
The positive findings come despite the fact that output volumes and domestic orders fell in the three months to January, while export orders were flat. In addition, numbers employed fell (at a similar pace to the previous three months) and are expected to remain flat in the next quarter. However, the CBI said that output and domestic orders are expected to grow in the quarter ahead.
Investment intentions for the year ahead have improved across the board. Spending plans for buildings, plant and machinery and product and process innovation all rose above their long-run averages. However, SME manufacturers still expect to cut back on investment in training, where investment plans remain below historic norms.
"It's brilliant the UK's small and medium-sized manufacturers are feeling markedly more optimistic about the business outlook, with the outlook for activity and investment looking more hopeful too," said Alpesh Paleja, CBI lead economist.
"But scratch the surface, and it seems that SME manufacturers are still struggling. This continues the theme seen across the recent swathe of economic data: sentiment and expectations clearly improving, but little sign of it feeding through to activity.
"Furthermore, businesses are still grappling with longer-term uncertainty around the end state of Brexit. It's the vital the government works quickly to secure a good trade deal with the European Union: one that shores up British manufacturers, protects jobs and allows industry to grow."
Written by Rachel Miller.