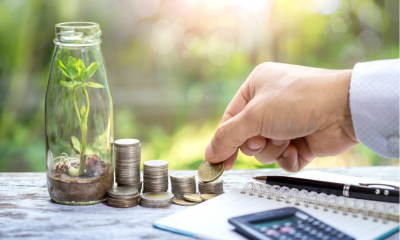 Small and medium-sized firms in the UK have accumulated £86 billion of cash and they are keeping it in current accounts that pay little or no interest.
Research by the Centre for Economic and Business Research (CEBR) on behalf of Shawbrook Bank reveals that this inertia could cost small businesses £4.2 billion of interest in the coming 12 months. SME cash reserves have increased by £66bn in the past five years as investment levels have fallen.
Shawbrook Bank's inaugural SME Savings Monitor has found that SMEs need easy access to 31% of their total cash reserves to cover the cost of day-to-day operations. However, they are holding an average of 57% of their total capital in current or instant-access accounts, rather than fixed-term deals that typically pay higher rates of interest.
Shawbrook has surveyed 500 senior SME decision-makers to examine how small businesses behave in the cash savings market. It has found that in the past five years SMEs have increased their cash reserves by £66 billion to £329 billion, suggesting that firms are still treading cautiously in the current economic and political environment.
New figures from UK Finance show that some £186.1 billion of this money is being held in current accounts which often pay no or little interest. This compares to the estimated £140.9 billion currently being held in deposit accounts.
UK Finance data also shows that the number of new business accounts opened fell 21% year-on-year in the second quarter of 2019, the fastest contraction on record. More than four in ten (43%) firms say higher interest rates would encourage them to engage more with savings providers and the products on offer.
A lack of flexibility in savings products also appears to be having an impact, with 35% of SMEs saying that the ability to choose a deposit term that suits their needs would act as more of a draw. Almost a quarter of SMEs (24%) called for a reduction in the minimum deposit size.
"The amount of money SMEs are keeping in accounts paying little or no interest is indicative of the cautious nature of many firms in the current economic and political climate," said Julian Hynd, chief operating officer at Shawbrook Bank.
"While, of course, it is prudent for firms to keep some cash within easy reach to cover the daily costs of running a business, having too much money that is earning next to no interest can have an adverse impact on finances."
New research from Hitachi Capital Business Finance shows that financial prudence is still a key factor for small firms in 2020. Its poll of 1,196 business owners has found that 21% say they are doing more to build up their financial reserves for the year ahead.
However, significant numbers are also planning to invest in order to grow their business. The key findings include:
77% of small business owners are prioritising new initiatives for 2020 to make their business stronger;
38% are looking to improve sales;
16% of small businesses plan to do more marketing;
11% plan to invest in improving the digital capabilities of their business;
10% want to expand into new geographical markets;
15% plan to develop the skills of existing staff.
Gavin Wraith-Carter, managing director at Hitachi Capital Business Finance, said: "We start 2020 with far greater certainty and our research suggests small businesses have switched from staying afloat through cost-cutting to a new era of planning for sales growth, investing in people and product diversification to boost bottom-line growth."
Written by Rachel Miller.