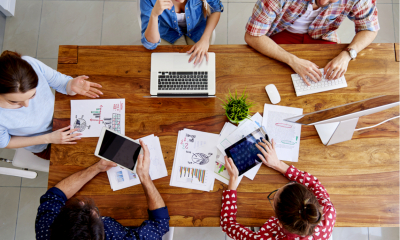 UK companies are sounding the alarm as demand for workers with digital skills is set to rise in the next three years.
A new report by the CBI, in partnership with Tata Consultancy Services (TCS) - Delivering Skills for the New Economy - has highlighted the UK's worsening digital skills gap.
The report says that the UK is losing out on £63bn a year as companies struggle to find people with digital skills. It has warned that this could jeopardise the country's competitiveness, deter investment and limit people's ability to access the jobs and services that technology offers.
The survey of 250 businesses has found that:
67% of companies across the UK have unfilled digital vacancies;
Only 31% are confident UK businesses will be able to access the digital skills they need in the next three to five years;
60% of larger firms surveyed said their digital skills needs are set to skyrocket over the next three to five years;
69% of smaller businesses say their digital needs are likely to peak over the next year or two.
The findings show that most companies are taking steps to tackle their digital skills shortages, with 56% of businesses confident they are spending enough on addressing their digital skills needs right now. But the report warns that almost half of businesses (46%) are "fishing in the same pool" by trying to hire outside talent rather than growing it from within the business.
"Technology is changing the way we live and work, creating millions of jobs and adding £184 billion to the UK economy. Yet this new data reveals the majority of firms are struggling to fill digital roles across all sectors and skills levels - with demand set to skyrocket in the next few years," said Matthew Fell, CBI chief UK policy director.
"Digital skills are absolutely fundamental to getting people ready for the future of work and helping companies make the most of the opportunities technology brings. It's essential we tackle the UK's digital skills crunch now to remain internationally competitive, and promote the UK as the number one place for businesses to invest.
"Ensuring people have basic digital skills will transform lives, open up job opportunities and help people across society access public services online. It's important that no-one is left behind as our workplaces change and that everyone has the skills to benefit from the new economy."
The report reveals that one in five firms are still unable to find employees with basic digital skills - such as writing documents using a word processor or using spreadsheets. Meanwhile, advanced digital skills are increasingly in demand across all sectors; 55% of larger firms report challenges recruiting software engineers and 61% are struggling to hire data analysts.
CBI is calling on the government to set an ambitious target for the entire UK workforce to have basic digital skills by 2025 and to work with businesses to engage with relevant academic and technical education institutions.
"Firms are sounding the alarm in their struggle for digital skills and the uncertainty that brings," added Matthew Fell. "With companies fishing in the same pool for talent, there's a clear need for businesses to diversify their hiring strategies and look for innovative ways to help their people improve their digital skills."
Written by Rachel Miller.