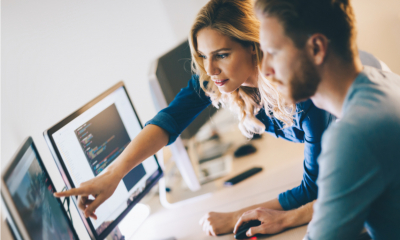 Two new business surveys have highlighted the challenges facing UK firms but they also suggest there is light at the end of the Brexit tunnel.
ThoughtWorks has surveyed more than 1,000 business owners and has found that 53% say they are fully using their technology advantage to win business, run efficient systems and attract the best talent.
The poll results show that:
47% of businesses say their use of technology is not that sophisticated;
41% say they are trying to improve their technological capabilities but are still some way behind the competition;
6% of respondents say their lack of technological development is holding their business back from growing.
The sector that is most likely to be using technology to its fullest advantage is media and technology (77%), followed by finance (59%). Construction (43%), education (40%) and retail (35%) are the sectors where businesses have the most work to do.
Newcastle is the city where the highest proportion of business leaders (77%) say their business makes full use of technology assets, followed by London (66%) and Birmingham (65%).
Significantly, the findings also show that the most tech agile firms are upbeat about business prospects after Brexit. Among these businesses, 47% expect to find growth opportunities in new markets and 19% expect to grow their market share in existing markets.
In contrast, those businesses that said their tech maturity was holding them back were far more likely to say Brexit would force them to put growth plans on hold (16%), to pull out of key markets (10%) or even to downsize.
Luke Vinogradov, digital transformation principal at ThoughtWorks, said: "Surrounded by change and uncertainty, organisations are realising they may not be taking full advantage of technology. Some have yet to start, others have focused narrowly on digital customer experience, because it's very visible and actually it's a great first step. However, modern digital businesses already at the top of their game know that the kind of capabilities that have driven their success don't stop there."
Also this week, research by Huthwaite International has revealed that 38% of firms in the business and professional services sector are confident about business growth post-Brexit and 44% believe Brexit will have no long-term impact at all. When looking at what worries businesses most about the UK leaving the European Union, economic stability, a rise in prices and a no-deal Brexit rank as the highest concerns.
Written by Rachel Miller.