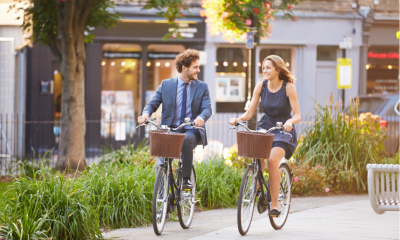 New research has found that over half of UK employees are considering cycling to work, with two-thirds saying they want to avoid having to use "unsafe" public transport.
OnBuy.com polled over 2,000 Brits to find out how they are planning to travel to work as lockdown measures are eased. The findings show that 53% of employees living in cities are now considering cycling to work. Safety, money and health were all cited as reasons to start commuting by bike.
Of those interested in cycling, 64% said they wanted to avoid "unsafe" public transport. Current government advice is to "consider all other forms of transport before using public transport" to help reduce the spread of coronavirus.
In addition, 21% of respondents said they wanted to save money and 14% wanted to improve their fitness. On average, a commuter will save £1,700 over three years by cycling to work if they were to purchase a new hybrid bike and invest in annual bike maintenance and accessories.
In fact, 42% of the UK population already own or have access to a bicycle, yet only 4% currently cycle to work. OnBuy saw a 300% rise in traffic to its bike accessories category in May compared to April.
However, the findings also revealed that awareness of the government's Cycle to work scheme is low. The survey found that 62% of those polled hadn't heard of the scheme at all. Only 7% of employers said they were considering using it when asked, while more than half (51%) said the scheme was too confusing to implement. When asked about employees taking public transport to work, a quarter of employers (23%) said they would be asking staff to find alternatives where possible.
Cas Paton, founder and CEO of OnBuy, said: "While the government is making an effort to combat the spread of coronavirus on buses and trains with things like the cycling scheme, businesses are clearly confused by their role in helping employees get to work safely, and the government support available to help them do so.
"Cycling to work will not only have the immediate benefit of slowing the spread of coronavirus, but it can also save commuters money, improve fitness and help reduce our carbon footprint. It's great to see so many people who have the option to cycle are now considering it."
Written by Rachel Miller.