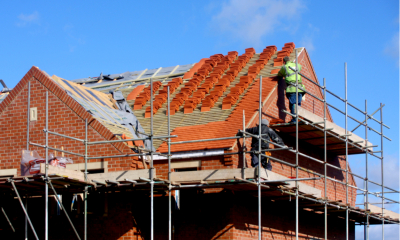 Small UK housebuilding firms in England may soon find it easier to get the finance they need to operate and grow, thanks to the launch of a new government scheme that offers guarantees to lenders.
The government?s economic development bank ? the British Business Bank ? will make up to £1bn available in guarantees to specialist and high-street banks that lend to small house-building companies. Lenders can apply for guarantees via the British Business Bank?s ENABLE Build Programme.
Reinald de Monchy, British Business Bank managing director of guarantee and wholesale, said: ?The ENABLE Build Programme will allow us to build on the ENABLE Guarantee?s success in supporting smaller housebuilders that have traditionally struggled to access the finance they need.
Hate balancing your books?
Save time and hassle with a bank account from Countingup. It lets you automate tedious financial admin, so that you can focus on running your business.
?Working alongside the Department Of Business, Energy and Industrial Strategy, the Ministry of Housing, Communities and Local Government and Homes England to tackle both access to finance and the UK housing shortage, this programme is an excellent demonstration of how government can work across departments to tackle a multifaceted issue.?
Secretary of State for Communities, James Brokenshire MP, said: ?This Government is getting on with the job, as we work towards our target of delivering 300,000 homes a year by the mid-2020s, so we can make the dream of home ownership a reality for a new generation.
?The ENABLE Build Programme is now open for business, providing up to £1bn of guarantees to ensure smaller house builders can continue their vital role in building the homes our country needs.?
According to the government, the ENABLE Build Programme is ?designed to encourage additional lending to smaller housebuilders by reducing the amount of capital required to be held against such lending by banks?. For a fee, the government takes on some of the lender?s risk on a portfolio of loans to smaller businesses.
The scheme will consider applications from lenders where at least 80 per cent of the loans are to developments in England (housing policy in Scotland, Wales and Northern Ireland is devolved). The British Business Bank has so far committed guarantees for live portfolios of more than £800m under its ENABLE Guarantee Programme