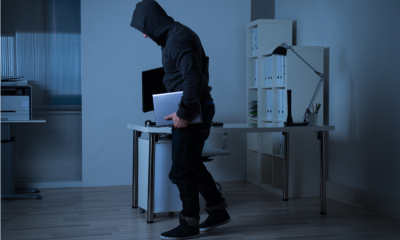 The UK has seen a 9% increase in business theft over the past three years but some parts of the country are seeing much bigger rises, according to new research.
Business theft is on the rise across the UK and the value of goods stolen from businesses has increased by over £2m since 2015, according to new data published by Ebuyer, following Freedom of Information requests being sent to police constabularies across the country.
The figures have revealed significant differences across the UK, with some areas seeing huge rises in business crime. Since 2015 there has been a 9% increase in the number of reported thefts affecting businesses across the UK as a whole. However, Cleveland police force, in north east England, has seen a staggering 3,292% increase over the three-year period, with 1,323 reported thefts in 2018 compared to 39 in 2015.
Out of 23 police constabularies that responded to the data request, 19 (83%) experienced increases in business-related thefts between 2015 and 2018. The top five constabularies which have seen the largest increases in business theft are:
Cleveland Police (3,292%);
Dorset Police (1,757%);
Durham Police (1,640%);
Dyfed-Powys Police (704%);
Surrey Police (659%).
Bucking this national trend are the police authorities in Bedfordshire and Derbyshire, which have both seen a decrease in business thefts since 2015. Bedfordshire has seen such reports drop by 54%, while in Wiltshire the number of thefts has fallen by 48%.
Meanwhile, London has reported by far the highest number of thefts. In 2018, businesses in this area contacted the police 339,337 times about stolen goods - 14 times more than the national average (24,058).
"The significant increase in the number of business thefts indicates that the risk to business security is higher and more unpredictable than ever," said Lee Weymouth, commercial director at Ebuyer. "As concerning as this is for businesses, there are now a number of ways that firms can protect themselves, including CCTV and thermal sensors."
Written by Rachel Miller.