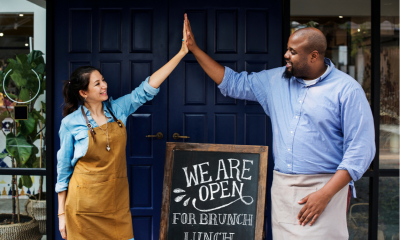 Last year, almost 700,000 new firms were launched in the UK, a 2.8% rise compared to a year ago.
New analysis by LearnBonds has revealed that 681,704 new businesses were established in the UK in 2019. Over 45,000 of these were tech start-ups, accounting for 6.6% of all new businesses. However, new firms were launched in over 700 different industries, according to research by the Centre for Entrepreneurs.
Its analysis also reveals that growing high-tech firms attracted £10.1bn from private equity firms last year, a 44% jump compared to a year ago which broke the industry's all-time high set in 2017.
The broad scope of business types launched in 2019 includes ten businesses raising llamas and alpacas as well as the formation of 429 driving schools. The continued rise of food delivery firms saw 14,363 new take-away food shops and mobile food stands registered in 2019. This significantly outnumbered the 9,405 licensed restaurants opened last year.
"It is encouraging that despite a politically turbulent year in which business confidence hit new lows, business formations continued to set records," said Matt Smith, director of policy and research at the Centre for Entrepreneurs. "It suggests that entrepreneurial spirit is well and truly embedded across the UK with entrepreneurs continuing to turn their ideas into action".
London continues to be the centre of new businesses in the UK, with 221,373 start-ups last year, a 2.4% increase. However, it's important to remember that London hosts several firms that register and act as virtual offices for new businesses around the country.
The top ten UK business regions by new firms registered in 2019 are:
Greater London - 221,373
Birmingham - 14,509
Manchester - 9,064
Leeds - 7,492
Glasgow - 6,733
Bournemouth, Poole, Christchurch - 5,627
Bromsgrove - 5,522
Liverpool - 5,421
Edinburgh - 5,155
Leicester - 5,060
Strong new business growth relative to population size in Cheshire East, Salford, Trafford and Stockport make the North West a top performer in terms of new businesses. The North East, Yorkshire and Humber, Wales, Scotland and the South West are the five least entrepreneurial areas of the country.
Written by Rachel Miller.