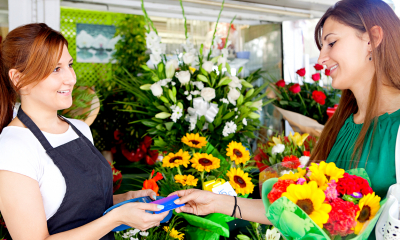 Getting paid and taking payments is a crucial part of running a your own business. Most customers prefer to pay by making a card payment these days, so it's likely you will need to accept card payments, particularly if your customers are individuals or you sell online. You want to choose a solution that makes this as easy as possible, both for you and your customers, while also keeping costs down.
Processing payments isn't free, so you need to make a choice. You can use an off-the-shelf payment provider and pay slightly higher fees, or take on more of the work yourself and pay a lower amount. Each has its own advantages and disadvantages, including set-up time and cost, which we explore below
Why should I take card payments?
Shoppers increasingly use cards rather than cash (only one in five shoppers prefer to use cash) and very few business operate on a cash only basis. Most businesses accept some form of card payment. Research shows that one in five shoppers have left a store because they didn't take cards
You may need to accept card payments, particularly if your customers are individuals or you sell online. You want to choose a solution that makes this as easy as possible, both for you and your customers, while also keeping costs down.
Processing payments isn't free, so you need to make a choice. You can use an off-the-shelf payment provider and pay slightly higher fees, or take on more of the work yourself and pay a lower amount. Each has its own advantages and disadvantages, including set-up time and cost, which we explore below.
Although card payments carry costs for the merchant, there's no doubt that you will get more business by accepting them .
The first step is to choose what's known as an "acquirer" who will provide a card payment terminal and set up a merchant service agreement with you. The terminal provides you with authorisation to take payment, so you know that the card being used is not lost or stolen and that your customer has enough money in their account to make the purchase.
An acquirer will want to know about your business (where it is located and what you sell) as well as details of the number and type of transactions you are likely to carry out. There are often special packages for small businesses.
Face-to-face card payments are known as 'card present' transactions. Online and over-the-phone transactions are known as card-not-present transactions. To guard against fraud when taking card-not-present payments, you can ask for the card's Card Security Code (CSC).
Your card payment requirements
Identify where and how you want to take card payments:
In person, for example in your shop or restaurant. You'll need some form of point-of-sale (POS) card reader, which should be able to handle both 'chip and PIN' and contactless payments.
Through your ecommerce website. You'll need an online 'payment gateway' that can process details of card transactions.
Over the phone, using a 'virtual terminal' where you can enter card details yourself.
Via an invoice using a link or QR code.
You also need to identify any particular requirements you have. For example, do you want to be able to accept payments in other currencies? If you are selling online, how will payments be integrated into your website?
Decide what sort of approach you want to take to dealing with card payments. As a business owner, you have two broad options:
Use an all-in-one provider to process payments for your business. We call this the easy payments approach.
Get more directly involved in putting together your card payments solution. We call this DIY payment processing.
If you're a start up or growing business, then an all-in-one provider probably offers the best solution. The higher transaction fees are offset by the simplicity of implementation and integration.
If you're a more established business that processes high volumes of card sales, or high transaction values, then the DIY approach could save you money. While transaction fee percentages may seem trivial, they can add up to significant amounts over time.
Let's look at each small business card payment method in more detail.
Accepting card payments in person
Card-present transactions include: chip and pin; chip and signature; contactless; and magnetic stripe.
Contactless technology is a secure, quick and easy alternative to cash. It does not require a pin number to be entered; however, from time to time a chip and pin transaction will be requested in order to deter fraud.
Charges for taking credit and debit cards (known as interchange fees) vary. Credit cards are priced on a percentage of the value of the card transaction whereas debit cards are priced per transaction.
Each card scheme (such as Visa or MasterCard) will also have a different level of interchange fee for each of their card types.
If you want to give customers an itemised receipt before they pay the total, you may need an integrated point-of-sale terminal. Most retailers rent their terminal; the advantage of this is that it is serviced and updated by the provider.
If you need to provide a refund, you'll need to use the card that was used for the original transaction. Don't be tempted to offer cash or cheque refunds - this is a common way for fraudsters to get cash from a stolen card.
Your merchant card terminal can help you to keep a close eye on your daily sales activity. At an agreed time with your acquirer, you can print out the day's transactions which will show everything you've taken and any refunds you have given.
Taking online card payments
If you run an ecommerce business, you'll need an internet merchant number and a secure payment page where customers can provide their card details and 'checkout'. A Payment Service Provider (PSP) provides this service and usually charges both a set-up fee and a per-transaction fee. There are a number of providers on the market, such as Fondy, that will allow you to add ecommerce functionality to your website.
As an additional security measure, you can use Verified by Visa or MasterCard SecureCode to ensure that transactions are not fraudulent. You can also offer other secure payment methods such as PayPal.
Make it clear on your website that you offer a secure payment process and protect customer data in order to encourage more people to buy from you online.
Invoicing customers
If you are paid for work after you have completed it, it's vital to minimise any payment delays. Late payment is a huge problem for small businesses, but there are lots of ways to improve your chances of being paid on time and to make it easy for clients to pay invoices:
Agree payment terms in advance. Talk to your client about how they can pay and what the terms are right from the start.
Do a credit check. It's simple to find out if new clients have a good credit record using an agency like Experian or Equifax.
Issue your invoice as soon as you can.
Include all the necessary invoicing information. Invoices can easily get delayed if they don't have the right information. This includes PO numbers, reference numbers and also your bank details.
Provide a payment deadline. Under the Government's Late Payment Directive you can charge interest if payments are late, so make this clear on the invoice.
Provide customers with easy ways to pay.
Send reminders promptly. Chase payment by phone or email as soon as it is due. If necessary, send a formal letter requesting payment.
Individuals and businesses overwhelmingly favour electronic payment methods. Send invoices that include a payment link or QR code so that customers can pay invoices quickly and easily using a payment card.
Using an all-in-one card payment service provider
There are a whole host of card payment providers that offer an all-in-one service. Sign-up to one of them, and you'll be able to process business payments quickly and simply. You'll pay a percentage of each transaction to the provider.
It can take literally minutes to set one up and start selling. But the benefits don't end there. Payment providers make it simple to integrate their payment processing technologies within your website and with your existing systems and technologies. You can even set up regular scheduled payments, for monthly orders, for example.
Initial set-up costs are low, and you won't need to pay a monthly fee to use them either.
Many popular payment providers such as Square offer complete POS systems, including both the hardware and software you will need. Although some focus on in-person payments, most can handle online payments as well. Other payment providers, such as Stripe, PayPal and Fondy, are mainly targeted at businesses accepting online payments.
DIY card payment processing
All-in-one providers make it easy to process payments, but over time the costs can add up. It can also be difficult to integrate some payment providers within an existing website, so there is another solution.
You still need to have a payment processor to process card transactions – sending details from your systems to the card provider for authorisation.
However, instead of letting your payments provider receive the payments for you, you also set up your own 'merchant account'. This is a separate online bank account that card payments are credited to once they have been processed. The money is then automatically transferred to your business bank account, typically a day or two later.
Setting up your own merchant account
Merchant accounts are a special type of account that allows you to accept payment via credit or debit card. The money sits in the merchant account until it's transferred into your business' bank account.
You'll find that merchant accounts are offered by all the major high street banks, as well as challenger banks who are competing for a slice of this lucrative market. Your merchant account doesn't need to be the same bank as your business bank account, although it's often simpler to set-up if that is the case.
Choosing the best card payment services provider
Once you've got your merchant account set up, you'll need a payment gateway to process your online transactions. The payment gateway connects you to the processor networks that manage transactions.
Customers can submit their credit and debit card details, and the processor will check whether the charge is approved by the customer's bank account. Once approved the processor submits the charge to the bank for payment.
Well-known payment services providers include Worldpay, and Opayo.
Payment services providers offer a range of solutions for their clients. You may pay a single flat fee to process a number of transactions (£25 per month for up to 300 transactions, £50 for up to 3,000 transactions, for example), or you may have a fee arrangement that includes:
an initial set-up fee
a monthly fee
a small authorisation fee each time a card is used for payment (even if the card is rejected)
a transaction fee, usually as a percentage of the value of each transaction. Percentages can be different for different types of card
separate charges for security measures, such as an SSL certificate.
fees for dealing with 'chargebacks' when a customer says the payment was fraudulent and other disputes.
There is no one-size-fits-all approach to payment processing, but the general rule of thumb is that the more transactions you process, the cheaper the cost per transaction. The ideal arrangement depends on the volume of transactions you process and the value of each transaction.
Other factors to take into account when choosing the right payment provider include whether they offer all the services you need, how easy it will be to get started and how good their reputation is.
Need a card payment system? We can help.
We have taken the guesswork out of buying a POS system. See our top picks
Best for start ups
Square | No monthly fee, from 1.75% | Popular and adaptable all-rounder
Best for ecommerce
Shopify | From £19 a month plus 1.7% | Complete ecommerce and payments platform
Best for hospitality
Lightspeed | From £39 a month plus 1.6% | Flexible hardware and powerful integrations
Best for mobile payments
SumUp | No monthly fee, 1.69% | Portable card readers stand out for mobile payments
Best for growth
EPOS Now | From £25 a month plus 1.7% | Sophisticated hardware and integrations