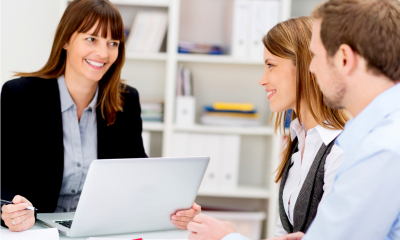 The popular image of an accountant is of someone with an encyclopaedic knowledge of tax rules who spends their days tapping figures into a calculator. But these days, the truth is somewhat different
Much of the number crunching traditionally performed by accountants can now be handled by decent accounting software. You can use this to automate tasks like creating profit and loss reports or checking bank statements.
And while HMRC's online services might have some way to go, they've come a long way. Although most businesses still get an accountant to generate their year-end accounts, it's relatively easy to file VAT returns and run payroll without assistance.
Against this changing financial landscape, how can you find the accountant who best meets your needs? And what are the best ways to work with them efficiently?
Your accountant is your adviser
The right accountant for your business will make sure you comply with accounting and tax rules. But they should also be able to tease out knowledge contained within your accounts, providing insights to make good decisions.
They should take the time to understand your business objectives, in order to provide financial support that helps you achieve them. This might mean identifying the best time to start developing a new product, or giving you an honest appraisal of why now is not the time to hire a new member of staff.
"Your accountant should do so much more than just draw up your accounts once a year," confirms Gisela Sharpe, a Certified Chartered Accountant based near Reading. "You should be able to use them as a sounding board for ideas and rely on them as a voice of reason."
Finding an accountant
Building a strong relationship with your accountant requires an investment of time. This means it's wise to take care finding an accountant who's likely to be a good match.
Put together a shortlist of potential accountants by asking for recommendations from colleagues and contacts, and searching online.
"If your industry has a trade organisation, they may maintain a list of accredited accountants," adds Gisela. "LinkedIn can also be a good place to find likely prospects."
"Ask each accountant to which accountancy body they belong," she continues, "then check they are listed on that body's website."
Searching in your local area will make it easier to meet your accountant regularly. Although this can help you build a good understanding - particularly to begin with - it's not essential.
Regular emails and phone calls, together with good accounting software (see below) make it easier to stay in touch at a distant.
Shortlisting possible accountants
Once you've identified some accountants who seem like a good fit for your business, have an initial chat with three or four of them.
"Ask what sort of client base they have," advises Gisela, "and see how many of their clients have similarities with your business."
See if they've taken time to research your company, and pay attention to the questions they ask. Accountants who take an interest in what you do and what you're aiming to achieve may be better at actively identifying opportunities and offering advice.
Having said that, don't forget the basics. "Always check they can provide the core services you need," cautions Gisela. "For instance, can they produce your management accounts or run payroll — and what do their standard fees include?"
Build a working relationship with your accountant
Although your accountant's knowledge and experience is important, so is their attitude and personality.
"It's important to make sure your accountant is approachable," explains Gisela. "They should complement your financial knowledge and expertise, explaining things in an understandable way and making it easy for you to have open and honest discussions."
You should be able to get a feel for an accountant's communication style when you speak to them. "It's hard to quantify," confirms Gisela, "but you should feel comfortable and at ease when you talk."
Look for an accountant who will come to you with questions and ideas, rather than waiting for you to ask them to do things.
The role of software when working with an accountant
Modern cloud-based accounting software - like Sage Accounting, QuickBooks, Xero and Zoho books - allows both you and your accountant to log in and view your latest figures. This provides a common language through which you can communicate.
For instance, if you need to discuss your profit and loss report or have a question about hiring an extra member of staff, you can use the figures shown in your software as a basis for discussion.
You should be able to use the software to perform tasks like raising invoices, logging expenses and filing VAT returns. Your accountant may have access to additional features to audit your books for errors or prepare year-end accounts.
If you already use accounting software, check that your accountant is happy to work with this. Many will prefer you to use their recommended software - if so, make sure this fits with how your business operates.
How to work with your accountant
"When you start working with an accountant, agree some basic processes," recommends Gisela. "Talk through where the accounting software fits into things and be clear about how early you must provide them with figures in order to avoid penalties from HMRC or Companies House."
"If you are switching accountants, let your current accountant know in advance. If you don't, there can be delays in the handover process. And get your new accountant appointed as your agent with HMRC, so they get copied in to HMRC communications."
Keep your accountant updated with major events in your business. If you're planning to expand, considering changing a major supplier or have just lost an important customer, they can provide an external perspective - helping to ensure your decisions are right for the health and direction of your company.
Accountancy qualifications
In the UK, anyone can call themselves an accountant, even if they have no experience or qualifications.
So, make sure any accountants on your shortlist are qualified and have membership of a relevant professional body. For instance:
ICAEW: Institute of Chartered Accountants in England and Wales.
ACCA: Association of Chartered Certified Accountants
CIMA: Chartered Institute of Management Accounts