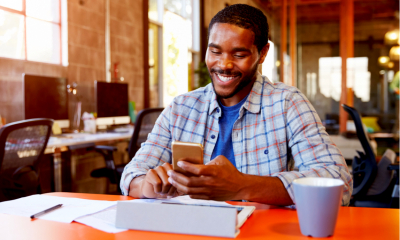 Making Tax Digital might sound daunting but it will bring lots of advantages for small firms and sole traders. Rachel Miller explains
There's no doubt that Making Tax Digital presents a big adjustment for many business owners - especially if, like many others, you still rely on a box of receipts to do your accounts. But once you've got the hang of using your new accounting software, you'll find that it brings many advantages.
1. MTD will help your business to become digital
Many sole traders and small business owners only tackle their accounts when the tax deadlines loom. If you're one of those who ends up wading through a pile of paperwork and receipts, Making Tax Digital will be a massive change. But once business owners have crossed the digital divide, they'll wonder why they didn't do it sooner.
2. You'll save time on your accounts and VAT returns
Using accounting software saves time managing all aspects of your business - from creating invoices to chasing payment. Many accounting apps allow you to take pictures of your receipts with your smartphone to input your expenses. If you employ staff, it will transform the way you manage payroll too.
3. You will make less mistakes with your accounts
Errors in paper records and on spreadsheets can be hard to spot. They can also have serious repercussions if you file the wrong information with HMRC. Accounting software allows you to see your data in a clear format and automation reduces the chances of making mistakes.
4. You could save money
By saving time on admin, you can spend more time doing what you do best and bringing in more revenue. You're also far less likely to lose track of a receipt or forget to claim an expense again. And, as you become more familiar with the software, you will be doing more of your accounts yourself so you may not need as much support from your accountant.
5. You'll be able to manage your business better
Having a clear and up-to-date picture of your finances will help with many aspects of running your business - from getting funding and working with business partners to managing cashflow and even providing better customer service. Because the basic accounting is taken care of, many business owners are also finding that their accountants have more time to help them with strategy and growth planning.
6. You will spot business opportunities
Up-to-date data can help you make more accurate sales forecasts and identify new revenue sources or spot opportunities for growth. Having a clear picture of your income and expenses will enable you to focus on the most profitable parts of your business; it can highlight overspending and waste as well.
7. You will be able to avert problems
Business owners often have to wait until they do their annual tax return before they notice issues with margins or cashflow. And by then the damage is often already done. By keeping on top of your finances, you'll find that you can iron out problems and tackle issues like late payment before they become a more serious problem.
8. You will be less stressed
There's no doubt that January is an anxious month for business owners as they tackle mountains of paperwork and try to make sense of their fading receipts. The same applies every quarter for VAT-registered businesses. Smoothing out this task by updating your finances as you go - and by embracing the time-savings that automation brings - will reduce your stress levels.
9. No more shocks when you get your tax bill
In the long-term, HMRC wants to introduce a pay-as-you-go approach to paying taxes. In the meantime, Making Tax Digital will allow you to see your tax liabilities throughout the year so you can put money aside for tax and there's less chance of getting an unexpected tax bill. It should also reduce overpayments as HMRC will always have an up-to-date picture of your accounts.
10. Anytime, anyplace, anywhere
Using financial software means you can keep on top of your accounts on the go, using your smartphone. You can take pictures of your receipts as soon as you get them and check if invoices have been paid when you are out and about.