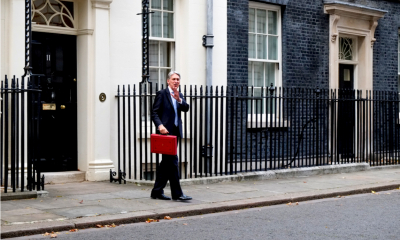 Chancellor of the exchequer Philip Hammond has used the Spring Statement to warn of the economic consequences of leaving the EU without a deal.
Hammond said the government would invest £26.6bn in tax cuts and public services if MPs vote to leave the EU with a deal. Leaving with no deal, he said, would be a significant blow to the economy, causing a fall in business investment, job losses and higher prices in the shops.
The UK economy, he said, has defied expectations; even so, the Office for Budget Responsibility (OBR) has revised down its growth forecast for 2019 from 1.6% to 1.2% - the weakest growth rate since 2009. Growth rates for 2020 and beyond are predicted to be higher.
The chancellor also announced an upcoming Treasury Spending Review but he said this assumes "the Brexit deal is agreed over the next few weeks and the uncertainty hanging over our economy is lifted".
The Spring Statement is not a full Budget and has been described by Hammond as a fiscal "non-event"; however, headline announcements included more money for technology, housing, policing and initiatives to tackle climate change.
The key announcements for businesses were:
New measures to tackle late payments of SMEs by corporates;
A £700 million package to help small businesses take on more apprentices (announced in the autumn Budget) to be brought forward to April 2019;
£3bn in funding for affordable homes, including £1bn for small and medium-sized builders of homes;
£260 million for the Borderlands Growth deal covering the border regions of England and Scotland.
Commenting on the Spring Statement, Edwin Morgan, interim director general of the Institute of Directors (IoD), said: "In all honesty, today's Spring Statement will barely register with most business leaders, as Brexit uncertainty continues to cast a shadow over their organisations.
"Warm words and proposed consultations are not enough for businesses at a time when confidence is rock bottom and investment plans are eroding away, and many will find it difficult to tread water until more decisive action at the Autumn Budget."
The British Chambers of Commerce (BCC) raised concerns that nothing was announced to support businesses struggling to comply with Making Tax Digital, which starts in April.
Suren Thiru, BCC head of economics, said: "Business communities across the UK will view the lack of action to ease the administrative and cost burden related to the introduction of Making Tax Digital as a major misstep by the government."
Welcoming the apprenticeship levy changes, Jane Gratton, BCC head of skills, said: "We have spent months pushing ministers to make practical changes to the way the apprenticeship system works, and this is an important step in the right direction. Reducing the co-investment costs for employers will encourage more firms to take on new talent, and train and upskill their wider workforce."
Mike Cherry, national chairman of the Federation of Small Businesses (FSB), welcomed action on late payments. "Four out of five small businesses have been paid late, and we told the chancellor that today was the moment to act, to tackle this scourge once and for all ? we are especially pleased that the first measure has been announced - to make a non-executive director responsible for the supply chain through the Audit Committee of every large business, and to report back through the Annual Report on their progress."
Written by Rachel Miller.