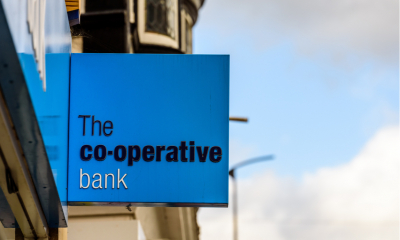 As businesses struggle to access the finance they need, the British Business Bank has approved four new lenders for accreditation under the Coronavirus Business Interruption Loan Scheme.
The Co-operative Bank, Cynergy Bank, OakNorth Bank and Starling Bank are to join more than 40 accredited lenders under the Coronavirus Business Interruption Loan Scheme (CBILS).
The British Business Bank says it is accelerating the onboarding of new lenders to extend the scheme's reach and is reviewing applications from a wide range of lender types, including PRA-regulated banks, platform lenders, debt funds, invoice finance lenders, and asset finance lenders.
Keith Morgan, British Business Bank CEO, said: "Our accredited lenders have seen an incredible demand for CBILS in the past few weeks, so we are helping to meet that demand and provide even more choice for smaller businesses by approving additional lenders for accreditation to the scheme. These new lenders will be able to deploy vital funding and get additional finance flowing to smaller businesses across the UK as quickly as possible."
The Coronavirus Business Interruption Loan Scheme enables lenders to provide facilities of up to £5m to smaller businesses across the UK who are experiencing lost or deferred revenues, leading to disruptions to their cashflow. The scheme supports a wide range of business finance products, including term loans, overdrafts, invoice finance and asset finance.
According to the British Business Bank, more than 80% of the UK's smaller businesses have a financial relationship with the 40+ existing CBILS accredited lenders. However, the government has admitted that just 1.4% of businesses that have enquired about the loan scheme have so far been successful, with only 4,200 of the estimated 300,000 firms that have sought help online having received loans.
Business groups have welcomed efforts to improve the scheme. Hannah Essex, co-executive director of the British Chambers of Commerce (BCC), said: "Business communities will welcome news that there are additional lenders able to provide much-needed loans at this challenging time. Extra capacity must now translate into cash getting to the frontline more quickly to prevent jobs and livelihoods from being lost."
Many sole traders and smaller businesses rely on personal loans and credit cards to support their business. From today (14 April), the Financial Conduct Authority (FCA) has said that lenders must offer three-month payment holidays to struggling customers.
Christopher Woolard, FCA interim chief executive, said: "We know many people are suffering financial pressures brought on as a result of the coronavirus pandemic. The measures we've announced … will provide support for consumers with credit cards, loans and overdrafts, facing temporary financial difficulties because of the pandemic."
However, he added: "Customers should think carefully before making use of these measures and only do so if they need immediate help. Where they can still afford to make payments, they should continue to do so."
Written by Rachel Miller.