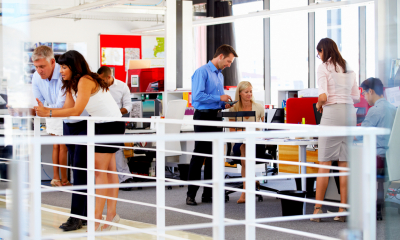 It's tempting to think that an office-based business doesn't really need insurance. But although risks tend to be low compared to some other businesses, an uninsured problem could still be disastrous
Office premises and contents insurance
You should consider getting your premises and contents insured - even if you work from home or in a rented office.
If you (or your employees) work from home, you must tell your insurer or risk invalidating your home insurance. Whether they're happy to continue insuring you, or will want an additional premium, is likely to depend on the nature of your business.
If you work in rented premises, your landlord is probably responsible for insuring the building. If you've made any improvements to the premises, these may not be covered. Nor will any furniture, equipment and other contents you own in the premises.
Typical premises insurance provides cover against fire, theft and so on. You should think carefully about what cover you want and check the details of any policy.
A typical policy may only include theft involving forced entry, when the office is locked up. Do you want cover for thefts during the day as well?
Do you keep any cash on the premises, and do you want this to be insured as well?
Do you want cover for portable equipment, such as laptops and smart phones, when they're being used away from the office?
If you have employees, do you want their personal possessions covered? For example, if they bring their own devices to work.
Does the policy include accidental damage? Do you want cover if equipment breaks down?
How long would it take you to recover after an incident such as a fire? Do you need business interruption insurance to cover the extra loss you could suffer?
If, like many businesses, you're dependent on your computer system, you may want specialist IT insurance. This can protect you against risks like viruses and cyber attacks.
Other office insurances
If you have employees, you're legally required to have employers' liability insurance. You may also want to consider other employee insurances. For example, you might want to cover the loss of income if a key individual is ill for an extended period.
If you have any visitors to the office, you might want public liability insurance to protect you against possible claims for any harm they might suffer. Public liability insurance can also cover harm or loss you might accidentally cause elsewhere, for example while visiting a client.
If your business involves giving advice, you should consider professional indemnity insurance.
Costs and risks
Your insurance costs will depend on how much cover you want and various risk factors. For example, premises and contents insurance premiums will vary for different locations.
In the simplest case, your existing home insurer might be prepared to cover you for working at home for no extra cost. A policy to cover you and basic office contents in a rented office might cost as little as £100 a year. Policies for larger businesses, or including risks like liability insurances, can be significantly more expensive.
Buying an office insurance package may be more cost-effective than buying each insurance you want separately. Check that the package matches your requirements, and if necessary consider topping it up with extra cover.
Managing risks well can also help minimise the risk of claims. For example, you should make sure you have adequate security, maintain your equipment properly, and take a responsible approach to health and safety. Any insurance policy will include conditions, such as security precautions, that you must comply with.