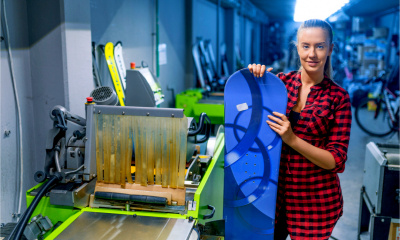 If you're in the process of looking for a trusted and reputable leasing company but want to do your due diligence first, you've come to the right place.
For small businesses, leasing equipment offers a great way to keep costs down and stay in control of expenses in order to focus on growth. Leasing allows businesses to use the latest and best equipment without having to shell out the full cost upfront and presents the opportunity to regularly upgrade equipment and maintain a competitive edge. Typically included in a leasing agreement is maintenance coverage, helping businesses to keep equipment running without being fully responsible for its upkeep.
Whilst looking for a leasing company, there are some red flags to be aware of, and some important questions to seek answers for.
Leasing specialists GRENKE have put together ten questions businesses should consider before leasing equipment.
1. What equipment can you lease?
You want to consider not only what you CAN lease, but what you NEED to lease.
Advice: Create a list of all the things you need. Which are better to be leased? Which are better maintained by an external company, and which are better to own?
Buying the latest equipment can be very costly and you can often find that the equipment is superseded by an even more efficient or productive model five years later. Those key pieces of equipment that support the everyday running of the business that need a maintenance package might be better obtained via a lease agreement.
2. Do you understand the concept of leasing or asset finance? Will you own the equipment at the end of the rental period?
Leasing is quite similar to renting. It's a long term rental that finishes in an agreed time frame when the equipment is returned and is possibly upgraded. It's important to understand that you are paying for the use of the equipment, not the ownership. The alternative is equipment finance, which will result in ownership of the asset at the end of the agreement. Some leasing companies offer financed assets, but it's a different business model altogether.
3. What do you need to qualify for a lease?
This will depend on the format of your business. Limited companies need one year's worth of accounts that are in good financial order. Sole traders will need three years' worth of accounts. If your company is doing well and is all legal and above board, a positive credit checks is likely to qualify you funding.
4. Does your preferred supplier offer the level of service and recommendations you're looking for?
If you have a preferred supplier, that's a good start, but make sure you check out their competitors in order to get the best service and equipment. You need to be sure that the supplier will be able to provide everything you need before applying for finance.
Check for reviews online and make sure their standards are as high as your business ambitions.
5. Does the equipment meet your needs now and for the years ahead?
This is one of the key questions you need to ask. Depending on your industry, technology and standards can quickly become outdated. A long lease might hurt your productivity. The answer will depend on your immediate needs, expected future needs, and whether your supplier will allow for early upgrades.
6. Does the rental period and payment (quarterly or monthly) meet your budget?
Perform a cost-benefit analysis with your accountant to make sure taking a financial lease for a period of three to five years makes financial sense.

Consider too, what payment frequency will suit you. Most businesses will request quarterly payments.
7. Have you read the full terms and conditions?
Fail to prepare, prepare to fail. Once your supplier has confirmed that your business is eligible and suitable for a lease, they will issue documentation for you to review. You must read your lease agreement - from start to finish. Before you sign anything, you need to understand the full terms of the lease.
8. Does the leasing company have UK-based customer support to answer any queries you might have?
Some leasing companies outsource their customer support to overseas call centres to keep their costs down. You should keep this in mind if you feel this could be an issue.
9. What happens if you want to settle the hire agreement early?
As is the industry standard, you'll have to pay your remaining settlement figure in full to end a lease agreement early. But if you're looking to upgrade your equipment, you can include this settlement figure in with the cost of the new equipment. This may mean you only face a small increase in rental payments.
10. What are your liabilities when using this equipment?
The owners of equipment will take out insurance to protect their assets. It's the same for GRENKE and all of our competitors. All suppliers will ask and expect you to take the best care possible of the assets and this will be stipulated in the contract. You are liable for its care.
Final considerations
Just by reading this article your research is clearly underway and hopefully your knowledge has been improved by the advice provided. The more questions you ask, the better so that you don't face costly (both in time and energy) surprises later.
Paying detailed attention to your lease agreement and terms will not only benefit you, it will also help you build a great relationship with the leasing company.
Copyright 2022. Article was made possible by site supporter Minty Digital.