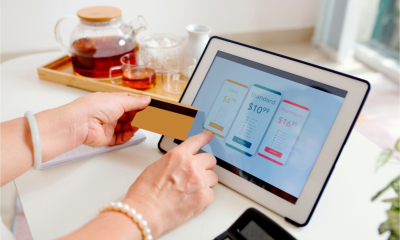 Streaming services, apps and a multitude of food, drink and other subscription services have created a new wave of consumer habits. A client subscribes once and then pays for each subsequent subscription period without any further action on the part of the customer. The product or service becomes part of the customer's day-to-day life, and they can rely on it turning up on time as per the subscription agreement.
It is a convenient arrangement for both parties. The consumer gets the product or service without any further action and the seller receives a guaranteed payment for each subscription period. This arrangement can result in a considerable amount of repeat income for the business.
Subscription products are a bridge between a business and their loyal customer base. Once the customer signs up for a subscription, they become loyal bringing continuous repeat revenue to the business. Any business can arrange subscription payments for their clients because only two things are required - the subscription package and the ability to accept recurring payments.
What are recurring payments?
Recurring payments, often referred to as subscription payments, are automatically initiated payments made to a specific schedule, agreed by the seller and the buyer.
Such payments indicate that a customer has granted authorisation for a business to withdraw specified payments from their bank account according to an agreed schedule. With recurring payments, a consumer provides their billing information to the merchant together with the consent, and the merchant charges following an agreed schedule.
How do recurring payments work?
Recurring payments were previously only offered by banks. They required the account holder to manually set up a recurring payment with their bank. These days, subscription payments are a valuable additional tool for merchants, and they are available through many payment service providers. It is easy to start accepting such payments by collaborating with a payment processing service that supports recurring payments.
To accept subscription payments, choose a payment system that offers recurring payment processing software. You can then provide your customer with the option of choosing a payment plan and timeline, as well as their chosen method of payment (such as PayPal, credit card, bank account). Your payment tool will securely save your customer's billing and payment information and automatically charge them and send them an invoice when the agreed payment day comes.
The payer must give their identification and consent at the time of subscription or before the first transaction. Subsequent charges are taken from the customer's account.
Why do businesses need recurring payments?
Recurring payments can be advantageous to both companies and their customers. There are some clear benefits:
Saves time - customers don't need to log in, enter credit card or bank account information, or write a cheque to make each payment.
Guaranteed payments - scheduled payments ensure the company is paid on time, every time. Clients don't need payment reminders (which are often forgotten) as the payment automatic.
Predictable cash flow - subscription payments make it easier to predict cash flow. This may be helpful in the planning of a firm's development.
Client retention - subscription arrangements allow the business to form a group of retained customers: the more subscriptions, the more powerful the loyalty towards the brand becomes.
Tracked payments - the client and company can keep track of all client payments in one place. The entire recurring payment procedure may be automated (if you implement a recurring payment tool).
Lower debt collection costs - not only does recurring billing provide consistent monthly revenue, but it also eliminates the need for staff to chase payment as invoices they are paid automatically.
What to consider when choosing a recurring payment processing partner?
There are lots of things to consider when choosing a payment partner. As a minimum, you should consider the following:
Feature stack
You need to ensure that the payment system will help you achieve your business goals and is ready to support your long-term strategy. For example, if you plan to expand into overseas territories you will need to be able to accept payments in foreign currencies. Check that the platform you select can accept payments in the desired currencies.
Compliance with all necessary security standards
Businesses should partner with a subscription service that follows Payment Card Industry (PCI DSS) payment security best practices, PSD2 rules, with 3DS2 requirements and SCA conditions. Another critical aspect for dealing with today's cybercriminal attacks is built-in fraud protection.
Availability of various payment methods
You should choose a payment system that is authorised to accept recurring payments using the widest selection of payment methods as possible. This will increase the likelihood of offering the payment methods preferred by your customers.
Conclusion
Embracing a subscription-based business model is the way to go if you want to grow your business. This revenue model has resulted in a significant growth for businesses implementing it. Companies can increase their revenue potential, experience a more stable and continuous cash flow, and cultivate relationships with long-term clients by using subscription billing. Automated recurring payments are worth trying no matter what industry your company operates in.

Copyright 2022. Guest post