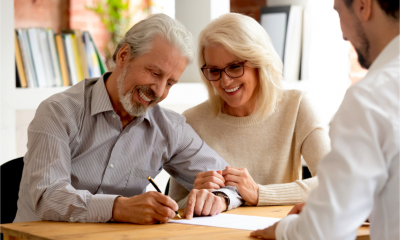 Right now, as a result of the coronavirus crisis, financial wellness and emotional wellness are intertwined. A lack of financial stability often leads to emotional stress. Therefore, financial advice, and the resulting financial wellbeing, is key to emotional wellbeing.
The relevance of financial advice
Finances play a significant role in our life as it enables us to run our businesses and homes. While on the one hand, sound finances provide tremendous mental peace; on the other hand, the lack thereof can cause numerous anxieties and troubles.
The foundation of a stable financial future is built on efficient financial planning, and financial advice helps you achieve just that. Robust financial advice is highly relevant right now. However, running a small business is a full-time job meaning small business owners are often short time leaving little time to manage their financial goals. Using the services of a financial advisor offers the required knowledge and skills, and they can pull everything together to help you achieve your financial goals.
Furthermore, sound financial advice helps you understand the intricacies of saving and investing in different financial products. It saves you a considerable amount of time and energy and can take a considerable burden from your shoulders. It also aligns your overall short-term and long-term goals with the financial goals that will lead to a balanced and fulfilled financial health and emotional wellbeing.
Benefits of financial advice for emotional wellbeing
Financial advice not only makes you financially more secure but also more confident and resilient about your future. This became evident in the research conducted by Royal London on a nationally representative sample of 4,007 individuals.
According to Royal London's study, over 17 million people in the UK have received financial advice at some point in their life. Most of those people feel positive about the financial advice and its impact on their emotional health. Most of the individuals who received financial advice also felt satisfied about the quality of advice, communication of the financial advice, and trustworthiness of their financial advisors.
Moreover, the satisfaction and emotional wellbeing of people in an ongoing relationship with their financial advisors were much higher than people who are not. Also, individuals in the UK who were advised specifically about protection products felt more emotionally secure than those who were advised generally.
Thus, according to the research, financial advice works positively for the emotional wellbeing of people in the following areas:
Enhancing Knowledge and Confidence - Financial advice boosts customer's knowledge about financial products, wealth protection, retirement planning, and other financial matters. They are in a better position to know how they can reduce the tax payable and grow their money to generate a steady source of income even after retirement. For instance, customers can learn how to consolidate their home equity loans, how to choose the best investment strategy, the types of loan options available and much more. Such knowledge helps to build confidence about financial matters and the future, leading to fewer fears about the future and improved emotional wellbeing.
According to the research, people receiving financial advice are three times more confident than people who are not. The majority of those who had not been advised lacked knowledge about financial products and didn't know what they would do if they needed life insurance or protection against serious illness.
Building Financial Resilience - Individuals who receive financial advice are more financially resilient than those who do not. People that seek the help of financial advisors are more able to withstand adverse and stressful life events, including divorce, disability, unemployment, divorce, or death of the partner. Thus, financial advice prepares them for handling untoward financial situations, making them more confident, giving greater peace of mind and leading to improved emotional wellbeing.
Based on the study by Royal London, 63% of the people who received financial advice felt financially secure and resilient compared to 48% of those who did not. At the same time, only a third of those receiving financial advice feel anxious about their financial future compared to 41% of those who do not. Overall, the individuals who have accessed financial advice feel in control of their lives and finances and are less worried.
Specific implications of financial advice during COVID-19
COVID-19 is one of the most stressful times the world has ever witnessed. It has challenged the emotional, financial, physical, and mental wellbeing of almost every person. Financial advice has become even more critical to improving emotional wellbeing in such challenging times.
The Royal London research also looked at the impact of COVID-19 on the emotional wellness of financially advised individuals as compared to the non-advised. The findings show that 35% of those who had not received advice feel anxious about their financial situation because of COVID and 65% understand the importance of financial advice to improve one's ability to cope with life's shocks.
Conclusion
All in all, the research confirms what most of us already knew, but were not ready to acknowledge. The benefits of financial advice go way beyond extraordinary returns on the stock market or better tax savings. It puts the power of knowledge in the hands of customers and assists them in exploiting the potential of their money. For example, people who received financial advice knew they could claim home expense costs while working from home during the lockdown. Financial advice makes you confident about your future and less anxious about the financial ups and downs and goes a long way in improving the emotional wellbeing.
Copyright 2020. Article was made possible by Sweeny Kumar