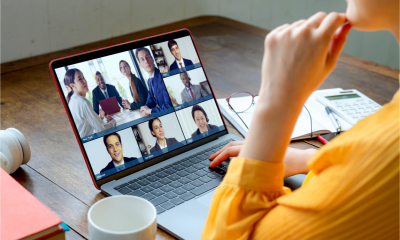 There has been a steady growth of remote workers as businesses of all types — start up, private, and non-profit — tap into the work-from-home economy. According to one study, remote work in the US has grown 159% since 2005. Today, business owners are transforming their traditional companies with on-site employees into remote businesses that can be run from anywhere in the world. Furthermore, the unprecedented disruption caused by the COVID-19 pandemic has also forced most companies to transition to a remote-based business model.
That said, running a remote business offers some pretty solid benefits, including considerable savings on rent and overheads, increased productivity, improved employee retention, higher employee satisfaction, and an opportunity to work with the best talent from across the world.
However, there's no silver bullet to make your company fully remote. Once you learn how to start an online business, you'll find that managing that business is another beast entirely.
Running a remote business involves managing employees that work from wherever they please, outside the traditional office environment. Whether you're transitioning from a bricks-and-mortar company or starting a remote business from scratch, you want to work with a productive and dedicated remote team. With that in mind, here are five tips to help you build and run a successful remote business.
Embrace digital productivity tools
As a business owner, you expect your remote employees to perform their daily tasks no matter where they're working from. But, first, you need to give them access to everything they need to complete their assignments efficiently. To ensure communication and collaboration between you and your staff, you need to implement the right tools. Some of these tools include:
Scheduling tools - these are digital tools that allow you to schedule and manage meetings with your remote teams. They include Google Suite and Microsoft Outlook.
Project management tools - these allow you to create joint team projects and assign specific tasks to different team members. They include Basecamp, Trello, Monday, Asana, Task world, and GitHub.
Remote conferencing tools - these allow you to conduct remote interviews, hold company briefs and client meetings, and even perform webinars. They include Zoom, GoToMeeting, Google Hangouts, and Skype.
Instant Messengers - these allow your remote employees to have quick, real-time communication with each other. They include WhatsApp, Slack, and Flow dock.
Create an effective remote hiring process
Working remotely requires self-driven and motivated individuals who are team players. No business succeeds without the right people. As such, you need to have an effective remote hiring process so you can get the right talent for your business.
To get started, use platforms such as Flexjobs, Upwork, WeWorkRemotely, and Angellist jobs to find remote workers with the skills you're looking for. You can promote your new remote position on LinkedIn and Indeed as well. Before hiring an individual for a remote role, dig into their work history to learn more about their previous roles. Be sure to check testimonials, reviews, and ratings from some of their recent clients.
Set clear, measurable goals
A remote business can only succeed if it has clear and measurable goals that the entire remote team works towards. Your remote employees need tangible milestones they can prioritise and work on within a specific time. Determine what your requirements are for each remote position, how each team member should perform, and weekly to-do lists.
Moreover, you want to make sure individual team member tasks and milestones contribute directly to your overall objectives. Setting clear and measurable goals for the business keeps team members accountable and ensures no one fails to meet their individual and business goals. The Google Analytics goal feature can help you quantify your business goals and review your online performance. Don't forget to give your remote employees the flexibility to follow their own path to their individual goals.
Create an intentional communication plan
It's almost impossible to run a remote business without a functional communication strategy. A remote business doesn't allow team members to have in-person conversations as is the case with a traditional office setting. And, as the employer, you can't provide one-on-one oversight to keep tabs on how the entire team is doing.
Communication in a remote business comes in the form of conference video meetings, emails, video briefs, phone calls, and instant messaging. There are many communication tools you can use to run a remote business effectively. The bottom line is that you need to share a clear plan and guideline for how each communication tool will be used to ensure maximum productivity and smooth business processes.
Create an inclusive culture
The traditional office environment allows employees to make small talk with each other and engage with their supervisors during work. As a result, they feel included and connected to the team projects. This is not the case with remote employees as they often struggle to feel a sense of belonging due to a lack of visibility.
Just like any office, there needs to be a remote work culture. To keep your remote business up and running, you need to ensure everyone feels included and in the loop on team projects. Some of the things you can do include scheduling activities that allow everyone to share ideas, sending e-birthday cards, making time for virtual bonding, and organising in-person (virtual) get-togethers.
Copyright 2020. Featured post made possible by Daniel Bailey