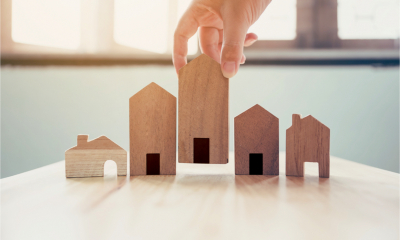 For landlords, change is familiar. Almost every tax year, new legislation is introduced that impacts their finances – and this year is no different.
In order to restart the economy, Chancellor Rishi Sunak has already introduced a couple of changes that are likely to affect property investors. We've asked Mike Parkes from GoSimpleTax to break down the new legislation in terms we can all understand.
Cuts to Stamp Duty
All homebuyers are to be supported in their hopes of buying a new property. This includes landlords, although they'll still be expected to pay a little more.
Specifically, Stamp Duty will be cut for homebuyers, but remain the same for those looking to purchase rental property or second homes. This change came into effect on 8 July 2020, and will remain in legislation until 31 March 2021.
For those buying a main home, the Stamp Duty rate will now be zero for properties valued up to £500,000. While this does benefit those looking to purchase a second home, you'll still be expected to pay the additional 3% surcharge on each bracket you make, as can be seen below:
| | | |
| --- | --- | --- |
| Property value    | Homeowner Stamp Duty rate    | Landlord Stamp Duty rate |
| Up to £500,000   | 0%  | 3% |
| £500,001 to £925,000 | 5% | 8% |
| £925,001 to £1.5 million | 10% | 13% |
| Above £1.5 million | 12% | 15% |
Need help with your self assessment tax return?
GoSimpleTax makes your self assessment tax return quick and easy, helping you figure out which expenses and allowances you can claim.
Get SimpleTax for £39.10 with our 15% Donut discount.
Changes to reporting on Capital Gains Tax
Capital Gains Tax (CGT) is a tax on the gain you make when you sell (or dispose of) an asset that has increased in value. The reason for the term 'dispose of' is to cover those who would attempt to give an asset away as a gift or compensation.
You pay CGT on all manner of assets. However, in relation to property, it includes the following:
a property that you've not used as your main home
a holiday home
a property which you let out for people to live in
a property that you've inherited and not used as your main home
According to the legislation brought in on 1 April 2020, you now only have 30 days to declare the sale to HMRC. If you miss this deadline, you may receive a penalty as well as interest on what you owe.
Consider filing now
As a landlord, you're required to submit your rental earnings through your January Self Assessment tax return. This year, there's all the more reason to submit early and get a complete understanding of your 2020/21 tax bill.
Knowing your obligations ahead of time will allow you to make informed budget decisions and help you avoid making further investments that you may not be able to maintain.
And remember that filing early does not mean paying early. It simply means that you can work out your tax liability ahead of the deadline. You'll still have up until midnight on 31 January to pay the tax you owe.
Sponsored post. Copyright © 2020 Mike Parkes, GoSimpleTax - tax return software that can help you manage your self-assessment.