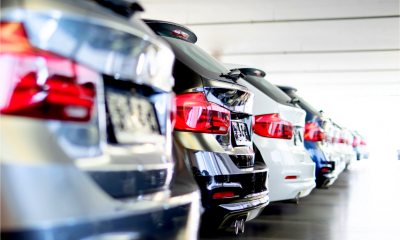 As a small business owner with limited funds, there is no doubt you want a vehicle that is cost-effective and reliable - especially if you spend a good portion of your job on the road travelling from meeting to meeting. You need to know that you're going to make those client meetings on time and without any issues, and of course without spending a fortune on fuel. It's likely there will also be several key features you will want to add to your list of must-have items.
To help take the confusion out of shopping for a new vehicle that is perfect for a small business owner who spends much of their day on the road, we've gone ahead and put together a list of features to look for.
Excellent fuel efficiency - the number one feature
There's no doubt that the number one feature to look for is whether or not the vehicle is fuel-efficient. This not only allows you to do your part for the environment, but you'll be saving a fortune in petrol costs, which in turn brings down your small business overheads.
On-board navigation system
Another feature you may insist on is an on-board navigation system. This can save you a lot of time and hassle as you're travelling around from client to client. You won't have to worry about getting lost or trying to figure out the fastest, most direct route.
The vehicle is easy to handle
Sometimes a vehicle can have all the right features and specs on paper. But, it's not until you get behind the wheel and give it a test drive that you will know if it's right for you. It needs to be comfortable and easy to handle so that those long hours on the road won't be too draining. Consider too how it handles at night and in poor weather conditions.
Does it offer enough space?
You also need to question the space available in the vehicle. Does it have enough room for you to transport all your work gear to and from meetings? Will you have colleagues travelling with you?
Leasing can be the smarter option
Before you go and sign on the dotted line and purchase a new vehicle, you may want to look into the benefits of leasing a vehicle. Often this results in a much smaller monthly payment, which can be beneficial as a small business owner. That, and the fact that you know you'll be able to trade in your vehicle at the end of the lease and get something brand new can be quite appealing.
Leasing options often offer a range of deals such as no upfront payments, no processing fees, reduced pricing, and so much more. There are new offers added all the time, so it's important to check back on a regular basis. Be sure to check out Vantage Leasing as they're known for their car leasing special offers.
Finding the right vehicle takes research
When it comes to finding that ideal vehicle for your small business - especially if you spend a lot of time on the road for work - there are a number of factors you should consider. If you can keep the points above in mind, you are well on the way to getting a cost efficient vehicle for your business.
Copyright 2020. Featured post made possible by Isabella Goode