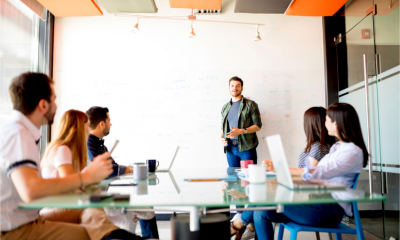 For most laypersons, pitching to an investor feels like an episode of Dragons' Den. The TV show has built the whole process into a high-octane drama, but the reality is a bit different. Yes, you need an awesome idea, and yes, how you present the pitch matters, but when someone is putting millions into a business, they will need more - much more!
So, what should you include in your investor pitch? For starters, keep in mind that your business development stage determines your pitch. At every step, you will be pitching to a different type of investor; the risk your business presents and the amount of funding you need will be different at each stage, and both these factors will require you to present different information to convince potential investors.
Let's look at the requirements for each stage.
Pre-seed
This is the stage when you have a great concept and a business plan. Usually, at this level, entrepreneurs source their capital from their savings or friends and family. Money can also be raised through crowdfunding and from grants.
Seed stage
Here, the business owners have developed their idea into a product that they think is great, but they haven't yet tested it in the market. A venture capitalist or an angel investor could be tapped to provide capital for the next steps.
At this point, you have to validate your idea. As the business is not yet operational, you don't have revenue or similar numbers to showcase. All you have is your idea or product.
Showcase the market need. You have to build a solid case for your product/idea by presenting an excellent market fit. Nazir, the co-founder of Tezis.io, a service that helps investors trade shares of Russian and American companies, raised $500k in angel funding in 2015.
"The angel was a private investor himself. He had tried many trading platforms and had suffered from some technical inconveniences," explains Nazir. "We explained to him that we understood his problem and knew how to solve it. Also, there was already a competitor in the market with a good response to the product. The market fit was obviously there, we just had to win the market share from the competitor."
Use qualitative and quantitative analysis to prove the importance of your product. It is useful to include results from analysis and market research to validate why your product is worth paying for. These could be interviews, surveys, questionnaires, market testing, and so forth.
Lastly, showcase the talent on your team. When you are presenting an idea or an untested product, the people behind it is a crucial selling point. Make sure you show investors that you have experienced and highly-qualified professionals leading the project.
Series A funding
Series A funding is required when you have launched your product and need capital to optimize it further. At this point, investors are looking for a great idea alongside a strong business strategy.
Essential to convince VCs during Series A funding is to show them that you can retain customers. Use cohort analysis to break down your retention rates into user groups that arrive during a certain period, and find out how many of them returned later.
"Try to think of your product as a leaky bucket full of water. The task of the team is to make the bucket leak slower than it fills," says Ilya Sidyakin, the product lead at Brief, a team collaboration app. "At this stage, the investor wants to see that the team is not burning tons of money for marketing purposes and that all the resources are being spent on figuring out whether the product can hold and retain users."
Part of the pitch should show a detailed breakdown of how you are planning to make money from the product. Here you must show different revenue sources and plans for scaling up the market.
Series B funding
Once a company has a tested business model in place (one that is making money and attracting clients steadily), the next step is to look for Series B funding to scale up. Here you have to present a growth hypothesis validation. The viability of the product is not in question; the focus is now shifted to scalability.
Let the numbers talk - include a variety of backing metrics such as LTV, CAC, and their ratio. Use cohort analysis to show how much users spend.
Your pitch must include unit economics - this is the profitability of every single unit (of goods or customers). You, essentially, break down your overall profitability to a single unit, and this gives investors a clear view of how your costs, expenses, and revenue interact together.
Series C funding
At this stage, successful, established businesses are looking for VCs to invest large amounts as Series C funding to grow the proven business model, develop new products, expand into more markets or acquire competitors.
Most companies looking for Series C funding are entering the global market or gearing up for an IPO. Here the focus of investors is on scalability and stability, and they are looking for an excellent team with a foolproof expansion plan.
Copyright 2019. Article made possible by Osome. Doing business is a test of character - doing business papers shouldn't be. Osome helps entrepreneurs establish all the accounting and bookkeeping records online 24/7 via one cloud-based platform.